Taking Submissions: Untitled Bathroom Horror Anthology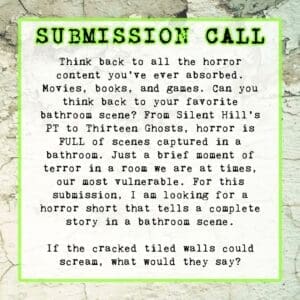 Deadline: April 3rd, 2023
Payment: $20
Theme: Horror that takes place in a bathroom
Submissions Call:
Think back to all the horror content you've ever absorbed. Movies, books, and games. Can you think back to your favorite bathroom scene? From Silent Hill's PT to Thirteen Ghosts, horror is FULL of scenes captured in a bathroom. Just a brief moment of terror in a room we are at times, our most vulnerable. For this submission, I am looking for a horror short that tells a complete story in a bathroom scene. 
If the cracked tiled walls could scream, what would they say?
Requirements:
1,500 – 4,000 words
Can't be published
Deadline April 3rd
Must be formatted as DOC
$20 For an accepted story
Submissions:
Please submit via email with the following in the subject line: Anthology Submission: Title: Word Count
Send all submissions to: [email protected]
Please note, that while the theme for this call is 'bathroom scenes', I'd like to avoid horror comedies or potty horror. The bathroom is merely the scene in which the horror takes place. DM me with any questions!
Via: This Tweet.
About the Author
Latest Posts
Holley Cornetto was born and raised in Alabama, but now lives in New Jersey where she writes dark fantasy, horror, and weird fiction. To date, her writing appears in over a dozen magazines and anthologies. To indulge her love of books and stories, she became a librarian. She is also a writer, because the only thing better than being surrounded by stories is to create them herself. In 2021, she earned an MFA in fiction writing from Lindenwood University. She is a proud member of the Horror Writers Association.