Taking Submissions: Uncommon Evil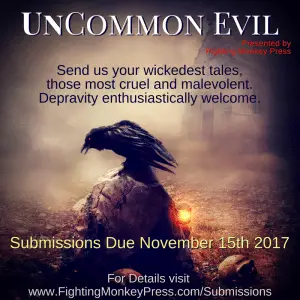 Deadline: November 15th, 2017
Payment: Royalties
Submission Details:
Submissions must be in English and written to the highest quality you are capable. Avoid passive voice. Consider making a pass with an editor before submission.
Maximum Word Count is 10,000, however I'm not going to turn away something awesome that's a little over.
This is a paid market anthology, with a royalty cut for each author. Details available upon request.
Each author retains all rights to their story.
All submissions will be edited and sent to the author for final approval before publication.
Open internationally, but submission must be in American English.
There is no fee to submit.
Please, no reprints or simultaneous submissions.
Multiple submissions accepted. Limit of two submissions per author.
Any genre is fine. However, we are not looking for nonfiction at this time.
Adult language and sexual situations are permitted.
Standard submission format is accepted, or please send in WORD doc or docx, formatted with; 12pt Times New Roman with 1.5-line spacing; left justified with 0.3″ indents on the first line of each new paragraph (Do NOT use TAB); no extra spacing between paragraphs; and no headers/footers/page numbers; one space at the end of a sentence, not two.
To submit, please send your story to 

[email protected]

 and include the following information in the body of the email:
Author (Legal) Name:
Pseudonym (if applicable):
Email:
Story Title:
Word Count:
Short Summary:
3rd Person Biography:
If you have any questions, please email me at [email protected] or submit your question through the contact page.
Via: Fighting Monkey Press.