Taking Submissions: Troopers (Early Listing)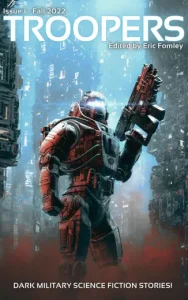 Submission Window: August 15th – 31st, 2022
Payment: .01 per word and .005 per word for reprints
Theme: Flash fiction featuring military and law enforcement science fiction
Note: Reprints Welcome
Troopers is a magazine of flash fiction featuring military and law enforcement science fiction. All stories in Troopers must feature a fictional military, paramilitary, or law enforcement entity in some meaningful way. Your main character doesn't need to be a soldier, pilot, or future cop necessarily, but there must be elements of military or law enforcement present in the story. Your character doesn't need to be human either, sentient space ships, robots, aliens, and the like are more than welcome. Paramilitary characters or groups are also welcome, such as mercenaries, space pirates, cartels, organized corporations with private militaries and/or guards, and other similar entities. We like stories with cool tech and that pack an emotional punch. We have a preference for stories that have a dark and gritty atmosphere and tone as well. We're looking to push the boundaries of military sci-fi in the flash category and we can't wait to see what you come up with!
Submissions will be open August 15th-31st. See below guidelines for details.
Submission Guidelines
Troopers publishes flash fiction stories of 1,000 words or less.
We publish science fiction. Every subgenre of science fiction is acceptable but the science fiction element must be present.
We will have set reading periods each year. Submissions will only be read in those reading periods. Stories sent outside of the reading periods will not be read unless they were specifically solicited by the editor.
We pay .01 per word for original fiction, paid on publication of the selected work.
Reprints are accepted and paid at .005 per word, half that of original fiction.
We accept simultaneous submissions. Just please let us know if your work was selected elsewhere if we have not yet gotten back to you.
We accept multiple submissions-up to three at a time, sent as separate emails.
The rights we ask for are first-time world electronic rights for original fiction and non-exclusive reprint rights for reprints. We do not have an exclusivity period, you are free to sell your work as a reprint upon publication in Troopers. We publish a yearly anthology gathering the work from the previous year. This anthology will be published in digital ebook and print.
Submissions must be sent in standard manuscript format and attached as a .doc, .docx, or .rtf file and sent by email to [email protected]. Please include in the body of the email a short cover letter as well as a short (50 words or less!) bio.
Any further questions please query the submission email.
Via: Shackle Bound Books.
About the Author
Latest Posts
Stuart Conover is a father, husband, published author, blogger, geek, entrepreneur, horror fanatic, and runs a few websites including Horror Tree!