Taking Submissions: The Rock N' Roll Horror Zine #3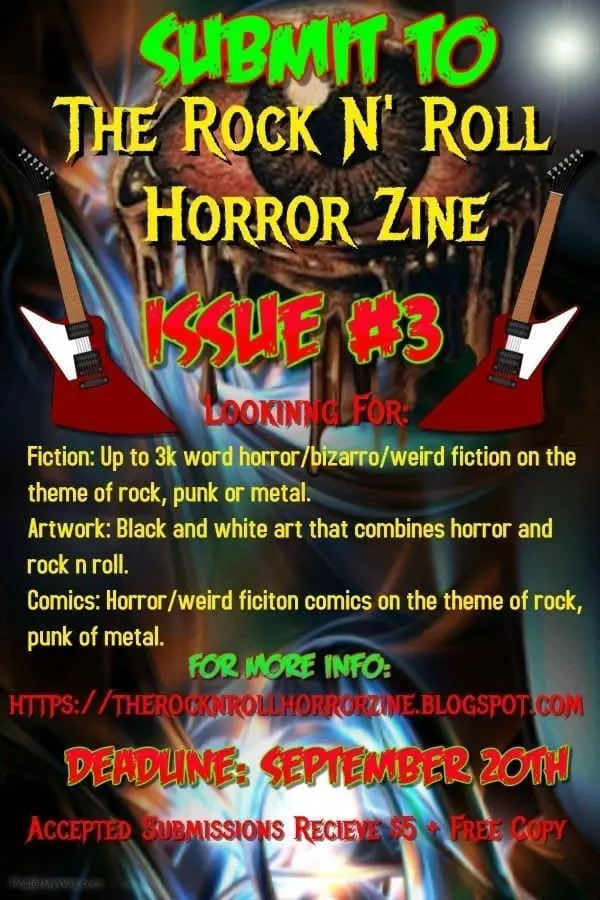 Deadline: September 20th, 2018
Payment: $5 and a contributor's copy
If you are interested in submitting, please review the information below in addition to the basic guidelines posted above.
The Rock N' Roll Horror Zine is looking for rock, punk and metal themed horror/bizarro/weird fiction or art and comics on that theme. This concept is open to interpretation, but the music should play a significant part of the story and more present than simply a rock and roll attitude and can be reflected in the setting, premise or characters. Stories involving specific bands or musicians are fine, but not required.
If you want some specific examples of the kinds of stories the zine would be interested in, try checking out the collection "Amazing Punk Stories" by David Agranoff or the anthology "Axes Of Evil". If you're still unclear, try picking up a copy of the first issue here: https://doomgoat666.wixsite.com/benfitts/zines
For artwork, make sure that your submissions contain elements of BOTH rock and roll and horror/weird fiction. Zombie rock bands, demonic electric guitars, minotaurs with mohawks wearing Misfits shirts and other things along these lines are what the zine is looking for. If you send artwork (or stories) that are JUST rock and roll or JUST horror/bizarro/weird fiction, it will be rejected. Also artist bear in mind that the zine is as of now printed in black and white. If you submit cover art, please do not include any text. All text, including the title of the zine, will be superimposed over your image later.
Submissions are now open indefinitely. Although deadlines may be occasionally posted, they refer to the latest possible cutoff to make the next issue. Any submissions accepted past that date will instead be applied to the next after.
Please include all submissions as an attachment and introduce yourself and provide some context in the body of the email. Just dragging your submission into an email and pressing send without any words is kind of rude, just saying. If you submit, please be willing to cooperate with potential edits and remember the goal is to make your work as best as it possibly can be.
Multiple submissions and reprints are fine, but it is unlikely (but not impossible) that you will have more than one entry in a single issue. Flash fiction is fine as well. You can mention specific songs and musicians, but any copyrighted lyrics will not be printed. The Rock N' Roll Horror Zine does not print poetry, your song lyrics or anything that promotes hate or intolerance.
Personalized feedback can be offered if requested, but do not expect it otherwise.
The Rock N' Roll Horror Zine wants to represent the full scope of humanity and encourages submissions by people of all identities.
If you have any further questions, please email [email protected]
Thanks for your interest and hope you send some great stuff!
-Ben Fitts, editor
Via: The Rock N Roll Horror Zine.
About the Author
Latest Posts
Stuart Conover is a father, husband, published author, blogger, geek, entrepreneur, horror fanatic, and runs a few websites including Horror Tree!