Taking Submissions: Lost Gods, Unexpected Heroines, & Forgotten Sidekicks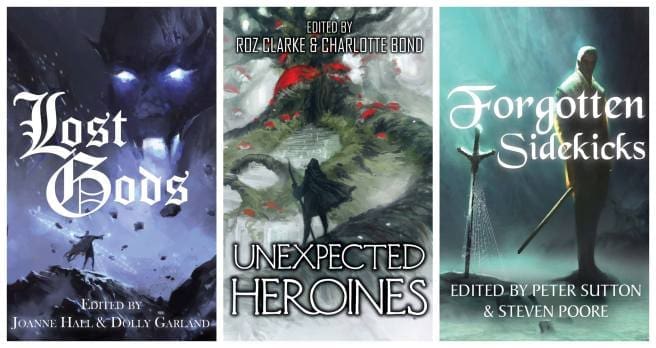 Deadline: November 30th, 2018
Payment: £15 and a contributor's copy
Unexpected Heroines:
Why is it always the teenage girl who is the heroine?
These are the stories of female protagonists who are never cast in the feature films. The awkward, the old, the forgotten, the different.
Their adventures were never meant to be. Their save-the-world expeditions shouldn't have happened. They are the ones who stepped forward when no-one else would.
Our unexpected heroines.
Forgotten Sidekicks:
We all know what happens when the hero saves the day, but what about their sidekicks?
Too often the hero is held high and celebrated whilst their sidekicks and comrades are brushed to the side; their own battles forgotten, and their actions airbrushed to nothingness from the tales of victory.
These are the stories of the ones who aren't remembered; the ones who helped save the day, and got cast aside; the ones who don't want the applause, and the ones who deserved the applause and never received it.
These stories didn't make the headlines – but they happened, and they're glorious.
Lost Gods:
They have slept for centuries. Buried. Forgotten. Lost.
Until they awake. Or are awoken.
When the deities of old return, will they bring blessings or destruction to a time that no long remembers them?
Should they be left to lie in peace, or used for our own ends? Are they gods, or monsters?
What lies out there in the realms of the lost gods?
Submission Guidelines:
The submission window will run from 1st September until the 30th November inclusive.
Submissions to be emailed to:
Lost Gods – [email protected]
Forgotten Sidekicks – [email protected]
Unexpected Heroines – [email protected]
All sub-genre and styles will be considered – comedic, epic, grimdark, noblebright etc. We are particularly keen on diversity – think older characters, LGBTQ, ethnic minorities and those with disabilities
Submissions should be (ideally) between 4-7,000 words (10% leeway given either side) and either 1.5 or double spaced and in an easy to read font such as Times New Roman or Arial size 12/14. Please include your contact details at the end of the story, along with a short bio and details of any writing credentials and/or social media handles.
We are aware that this is a long submission window, but hectic lifestyles for both writers and editors means that we must be patient. Editors will be reading submissions as they are received but final decisions are unlikely to be publicised until the end of December 2018 at the earliest. This allows there to be a reasonable amount of time for reading and selecting the final line-up.
Payment will be £15 per story and a physical copy of the final anthology for which the story appears and, should you also wish, copies of the eBook for your own private use and not for resale or lending.
Any questions relating to submission guidelines – please do ask away!
Via: petewsutton.
About the Author
Latest Posts
Stuart Conover is a father, husband, published author, blogger, geek, entrepreneur, horror fanatic, and runs a few websites including Horror Tree!