Taking Submissions: Made In Britain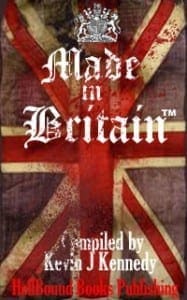 Deadline: September 30th, 2018
Payment: £10 for first rights and Equal share of 50% of the anthology profits
Note: Only authors from the Sceptered Isle (England, Scotland, Ireland and Wales – Gibraltar and the Falklands too!) are allowed
Made in Britain
… the title says it all – this exemplary anthology is open ONLY to writers from the Sceptered Isle (England, Scotland, Ireland and Wales – Gibraltar and the Falklands too!) – and ex-pats of course! Your story needn't necessarily be set in England, but should carry that unmistakable British tone that everyone knows and loves.
There's no set theme – just good ol' spooky, scary, horror stories – nothing extreme or gratuitous please!
The anthology will be compiled by the superlative horror author, Kevin Kennedy, and published in time for Xmas by the incomparable HellBound Books Publishing.
To submit, email your polished story to [email protected]
PLEASE read and adhere to our submission guidelines…
* Word format saved in .doc, or .docx
* 12 pt times new roman
* Double spaced
* Absolutely NO extra lines between paragraphs!
* 5K-15K word count (although we are incredibly flexible for awesome stories!)
* Write 'BRITAIN' along with your name and story title in the header of your email
*The body of your submission email will be considered the cover letter.
* The submission documents are to be separated and Word (.doc or .docx) documents are to be attached to your submission email.
– Make sure that you check your mss for grammar and punctuation, use our guidelines to help you:
DOWNLOAD YOUR HBB GUIDE TO GRAMMAR HERE (PDF)
Deadline: 30 Sept 2018 – for Xmas 2018 release
NO REPRINTS – ORIGINAL UNPUBLISHED WORKS ONLY
Payment – £10 for first rights (that's quid!)
Equal share of 50% of the anthology profits
Capped at 15 authors/150K words in total
Via: Hell Bound Books.
About the Author
Latest Posts
Stuart Conover is a father, husband, published author, blogger, geek, entrepreneur, horror fanatic, and runs a few websites including Horror Tree!