Taking Submissions: The Myriad Carnival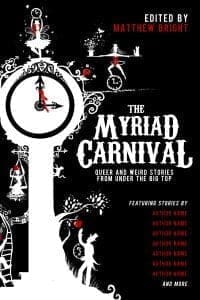 Deadline: August 31st, 2015
Payment: $40/£24, plus 2 x copies of the anthology
Note: Reprints Accepted
'The Myriad Carnival' is an anthology of 'queer, weird and dark' stories themed around carnivals, featuring stories from writers including Paul Magrs (The Brenda and Effie Mysteries, Doctor Who), Hal Duncan (Vellum, Ink, Scruffians!), Roy Gill (The Parallelseries, Confessions of Dorian Gray), Evey Brett, Kate Harrad and others. Previously invitation only, we're opening submissions for the remaining two slots in the table of contents.
Pertinent details:
–  The collection is nominally shared world; each story features a carnival named the 'Myriad Carnival' but other than this the genre, time, setting and peoples of the carnival are in the hands of the writer.
–  This is also primarily an LGBT, or queer, themed anthology. Whilst it is not a hard-and-fast requirement that characters be explicitly gay, please not that the queer/weird sensibility is important, and that LGBT elements are likely a leg-up to inclusion.
–  There are plenty of carnival archetypes currently unexplored, but steer clear of tarot readers, trick horse riders, tattooed men and electricity magicians. We've got those already.
–  Payment is $40/£24, plus 2 x copies of the anthology. Reprints accepted.
–  Word length: Flexible; average current story length between 2k and 6k.
–  Deadline: August 31st.
–  Submissions/queries to: matthewbrightwriter@gmail.com
Via: Matthew Bright.
About the Author
Latest Posts
Stuart Conover is a father, husband, published author, blogger, geek, entrepreneur, horror fanatic, and runs a few websites including Horror Tree!