Taking Submissions: State of Horror: California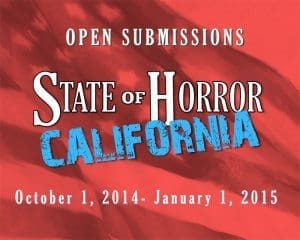 Deadline: January 1st, 2015
Payment: Royalty Split and contributor copy
As part of the State of Horror Anthologies, Charon Coin Press, with editor Jerry E. Benns, will begin accepting stories based in the state of California on October 1st.  State of Horror: California was previously released under Rymfire Books as a creation of Dying Days author, Armand Rosamilia. This re-release will be revised and expanded to include a total of thirteen stories. State of Horror: Californiawill also be released with new cover art. Submitted stories meeting the guidelines below will have an opportunity to be included into the upcoming release of this popular anthology series. Before we get to the guidelines, let's take a look at the featured state for this release.
The Beach Boys and Katy Perry tout the appeal of California Girls, which is true, unless they are attempting to kill you. California has everything anyone could ever want for a really good horrifying story.  With its mesh of people and cultures, California is like a unique world unto itself, vastly different depending on the region you happen to be in at the time.
In the northern, rugged region of California, you find a wilderness which can be daunting to even the most skilled survivalist.  Mountains, animals with fangs and claws, wildfires and unpredictable weather can all contribute to the backdrop of a terrifying story.  Or if an urban area is more to your liking, consider using San Francisco. San Francisco with its fog and chill, street cars, bay, the Golden Gate Bridge, and Alcatraz Island has so much to draw from for a horror story.  Even the people of San Francisco share a culture unique onto themselves as they survive their daily lives—all rich material to pull from for a good story.
Other regions like Napa Valley with their picturesque vineyards or Silicon Valley with the creative technological where-with-all to change the world, could easily lend themselves to frightening stories.  You could even pull in the political intrigue of Sacramento and the divisive decisions seemingly at odds with the rest of the state a scary thriller could be created just around the capital of California.
Then there is the southern part of California- Los Angeles, Malibu. The sun, the ocean, the celebrities, the decadence all abound in the southern regions of California. Who knows what is lurking out in the large waves the surfers crave? Sun-kissed and scared, the beaches can be the perfect combination of elements for a scary tale of terror.  The city of Los Angles itself is at extremes with the haves and have-nots together.  What is behind the glitz and glamour of Hollywood? What twisted lives hide behind the designer dresses and plastic surgeries? What happens if there is a power-vacuum in East LA?
Even the history of California could lead to a great terrifying tale. Having been owned and colonized by the Spanish, there may be haunted missions or treasure galleons off the coast.  The Gold Rush of 1849 has many horrific legends associated with it as well as ghost towns scattered about. Broken dreams during the golden age of Hollywood still haunt the town as well as bright stars who burned out too quickly inside shady nightclubs.  California has had its share of serial killers and cult leaders, so it is easy to pull from California's history and create macabre twisted tales of terror.
As you can see, California offers a wide spectrum of potential ideas. Submissions of stories do not require living in the state or even having visited the state. The stories do, however, require the ability to weave a tale designed to give the readers a little glimpse into the essence of California. The submitted stories can draw upon any time-period. It is time to dust off your imagination, slip into the feel of this popular state, and explore the essence of California.
Submission Guidelines
Charon Coin Press announces an open call for submissions for the States of Horror: California
Word count for this collection is a minimum of 4,000 words not to exceed 9,000 words. Preferred format for submission is: Times New Roman at 12 pt. font. Submission should include: title, author name, author email, and word count of completed story. File type accepted is .doc, .docx, and .rtf. Submission must be made via [email protected]. Subject line for submission email should contain: author's name, State of Horror: California. Stories will not be accepted through snail mail.
Stories may contain characters and worlds created in other stories published by the author as long as it meets the requirement of the theme of State of Horror: California. If submission has been previously released, please include information about the previously released story publication and the release date. Stories may not be published in any other form for twelve (12) months prior to or after the release of State of Horror: California. NO multiple submissions allowed.
Charon Coin Press understands that sexual content and violence may be included in the stories. However, before inclusion of this type of content, please make sure it is relevant to the story's progression.
Submission is open between October 1, 2014 and January 1, 2015
The release of each book will have a promotional campaign. Authors who have had their submissions selected will be requested to participate in the marketing of the book in which they are included.
The State of Horror Anthologies are a royalty-only payment schedule plus a contributor paperback copy. The royalties are 50% of the sales per eBook and Print book divided between the authors, paid every six months. Each book will contain 13 stories.
Charon Coin Press will make every effort to announce selected stories within eight (8) weeks of the close date listed above.
Via: Charon Coin Press.
About the Author
Latest Posts
Stuart Conover is a father, husband, published author, blogger, geek, entrepreneur, horror fanatic, and runs a few websites including Horror Tree!