Taking Submissions: Schlock! Horror!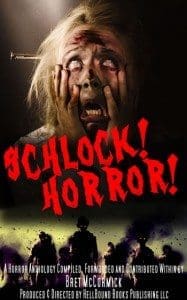 Deadline: April 30th, 2018
Payment: $10
An anthology of short stories based upon/inspired by and in loving homage to all of those great gorefest movies and books of the 1980's (doesn't need to be set in that era!), the golden age when horror well and truly came kicking, screaming and spraying blood, gore & body parts out from the shadows…
It was the dacade that brought us everything in the cinema and on VHS from the Italian 'nasties' to Elm Street, The Lost Boys, Hellraiser, The Thing, Day of the Dead, Reanimator, Return of the Living Dead, My Bloody Valentine, Henry: Portrait of a Serial Killer, Cannibal Holocaust….and superlative directors such as David Cronenburg, John Waters, Roger Corman and – of course – Clive Barker.
All of this was, naturally, reflected in the books we devoured – Guy N Smith, Clive Barker'sBooks of Blood, James Herbert, Jack Ketchum, Gary Brandner and Richard Laymon, to name but a mere handfiul.
Your 80's themed/inspired tales of terror wil be adjudicated and compiled by one Mr Bret McCormick, himself a writer, producer and director of many a schlock classic, including Bio-Tech Warrior, Time Tracers, The Abomination, Ozone: The Attack of the Redneck Mutants and the inimitable Repligator.  Check out his formidable resume here on IMDB…
So, you get the picture – we want your darkest splatter, most horrific gruesomeness and stomach-churning detail, all wrapped up in a gripping story played out by the strongest of characters that will keep even the most hardiest of souls wide awake and trembling in the wee hours.
To submit, email your polished story to [email protected]
PLEASE read and adhere to our submission guidelines…
* Word format saved in .doc, or .docx
* 12 pt times new roman
* Double spaced
* Absolutely NO extra lines between paragraphs!
* 5K-15K word count (although we are incredibly flexible for awesome stories!)
* Write 'SCHLOCK!' along with your name and story title in the header of your email
*The body of your submission email will be considered the cover letter.
* The submission documents are to be separated and Word (.doc or .docx) documents are to be attached to your submission email.

– Make sure that you check your mss for grammar and punctuation, use our guidelines to help you:
DOWNLOAD YOUR HBB GUIDE TO GRAMMAR HERE (PDF)
Deadline: 30 April 2018 – for June 2018 release
NO REPRINTS – ORIGINAL UNPUBLISHED WORKS ONLY
Payment – $10
Capped at 15 authors/150K words in total
Via: Hellbound Books.
About the Author
Latest Posts
Stuart Conover is a father, husband, published author, blogger, geek, entrepreneur, horror fanatic, and runs a few websites including Horror Tree!