Taking Submissions: Saturn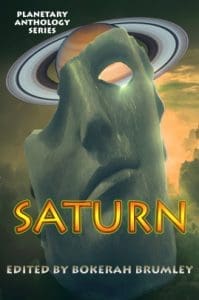 Deadline: July 15th, 2020
Payment: Split of 20% of royalties between the authors
Theme: Short stories revolving around the planet or God Saturn
Note: Reprints accepted
Starting in December 2019, Tuscany Bay Books will be releasing an 11-book anthology series: Planetary Anthology Series.
First up is Pluto. You can pre-order the e-book edition now. On Dec. 5th you can get it for free if you are a KU subscriber on Amazon. Shortly after Dec. 5th you should be able to order the paperback edition as well.
Next up is Luna and then Uranus. Mercury, Venus, Earth, Mars, Jupiter, Neptune, Sol and Saturn should then follow.
NOTE: Submissions are now open again for Neptune and Saturn. Payment is a split of 20% of royalties between the authors. For more info on what is required and how to submit, see this post: ANTHOLOGY SUBMISSION CALL  
The most beautiful of the wandering stars, surrounded by a mysterious and remarkable series of rings, crowning the planet in glory.
Jupiter may be the king of the planets, but Saturn is the progenitor, named for the powerful and terrible Titan that fathered the gods themselves. Saturn is the lord of Time, Age, and Endings. And when everything else disperses into a heat death and the cosmos is an empty void, it is Time that will rule over all.
Bullet point form:
Word count is 500-10,000
Poems will be accepted
Reprints will be accepted
Simultaneous submissions will be accepted
Stories can be about the actual planet Saturn, time, age, and endings. The Titan Saturn may also feature.
Submissions should be in standard manuscript format, though please italicize instead of underline when appropriate. If the story is not in standard manuscript format, it may be rejected without being read. Seriously. I'm not kidding here. For that matter, ditto if the stories are under 500 words or over 10,000.
The subject line should look like this: SATURN SUBMISSION/Story Title/Author Last Name
The deadline is July 15, 2020. 
The submission e-mail is the editor's Bokerah Brumley at:   

[email protected]
Via: Tuscany Bay Books.
About the Author
Latest Posts
Stuart Conover is a father, husband, published author, blogger, geek, entrepreneur, horror fanatic, and runs a few websites including Horror Tree!