Taking Submissions: Untitled Vampire Anthology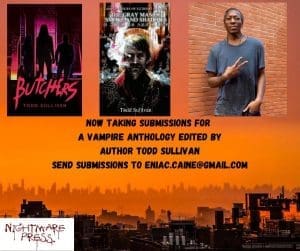 Deadline: July 12th, 2020
Payment: $25 and a contributors copy
Theme: Original takes on vampires
Note: Reprints Welcome
Nightmare Press is open for submissions for our upcoming vampire anthology. The stories will be personally selected by the Vamp Man himself, Todd Sullivan, author of The Vampire Series of Extreme Horror: BUTCHERS and THE GRAY MAN OF SMOKE AND SHADOWS.
– $25 if you are accepted
– A free print copy of the book
– You will be able to purchase copies at cost, which includes shipping.
– Word Count: 1k – 5k
– Deadline: July 12th
– email stories to [email protected]; include the name of the story and your name in the subject line
– Doesn't have to be an exclusive submission, just please tell us if your story is accepted elsewhere
– One story per person
– If it's been previously published, that's fine as long as you have the publishing rights back
A little tip: We're looking for something fresh. If you've read Sullivan's work, you know it is a new take on the vampire genre. Nightmare Press personally recommends at least taking a glance at his work to get an idea of what we're looking for. Also, we would really like to see something other than your typical American or European vampire. It's okay to send those stories if you have something really good, but we'd like to see vampires that are unique.
Nightmare Press looks forward to your submissions.
Via: Nightmare Press's Facebook.
About the Author
Latest Posts
Stuart Conover is a father, husband, published author, blogger, geek, entrepreneur, horror fanatic, and runs a few websites including Horror Tree!