Taking Submissions: Pixies, Fae, and Sprites: A Mythical Rebellion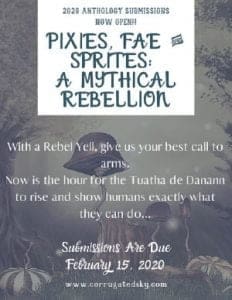 Deadline: April 30th, 2020
Payment: $25 and 2 contributors copies
Theme: Rebellious pixies and fae
Submission deadline has been extended to April 30th, 2020!
We are seeking short stories of up to 10,000 words that deal with the theme of rebellious pixies and fae. Please limit your topic to the mythical beings commonly described as fae (do not submit stories of mermaids, trolls, werewolves, vampires, zombies, unicorns, dragons, or other legendary creatures).
Accepted submissions will be notified via email. All accepted authors of the anthology will receive a one-time payment of $25 and two free copies of the published anthology in either ebook or print format.
Please send your submission to [email protected] as an attachment with the word "submission" in the subject line of the email. Multiple and simultaneous submissions are accepted, and there is no reading fee. Estimated response time is up to eight weeks.
Via: Corrugated Sky.
About the Author
Latest Posts
Stuart Conover is a father, husband, published author, blogger, geek, entrepreneur, horror fanatic, and runs a few websites including Horror Tree!