Taking Submissions: Not Far From Roswell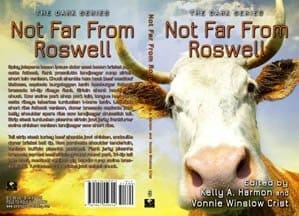 Deadline: July 30th, 2019
Payment: 2¢ per word
(Working Cover. Fonts/colors subject to change.)
Pole to Pole Publishing is seeking short, original fiction for its upcoming anthology, Not Far from Roswell,  to be published October 2019.
Not Far From Roswell will contain dark stories of aliens, alien abduction, alien experimentation, cows, paranormal investigation and more — let your imagination be your guide.  We may also include one or two humorous pieces as long as the material is dark.
Stories should be 3,000-5,000 words (firm).
Hard Sells:
Profane and vulgar language. Because we market to both adult and YA  readers, if you use an F-Bomb, and we accept your story, we'll probably ask you to change it.
First person and Present Tense. We've published both: when the  stories were very, very good. We want to let you know up front that we're going to reject this most of the time. It's just not our preference.
Excessive Gore and/or violence. Blood and guts are fine—as long as they're part of the story and not the story itself.
Sex. See above about marketing to a wider audience.
Edition and Rights:
Not Far From Roswell will be published in electronic and trade paperback in English. We are asking for exclusive, worldwide rights to your work for both electronic and print for six months only, and a  non-exclusive right to keep your story in the anthology after that. The anthology may be included with other "Dark Stories Anthologies" in bundles.
Payment:  Payment is 2¢ per word, paid at publication, via PayPal only.
If you do not have a PayPal account, please do not submit your work.
Authors will also receive one copy of both the electronic and  paperback versions of the anthology. (Authors can buy additional books  at a discount.)
What We Don't Want:
No rape, torture, etc. of children. No animal abuse. No stories with  characters from a copyrighted world that belongs to someone else.  No reprints. No Poetry.  Only one story from each author will be considered.
Formatting:
No tabs. Please format the document with a first line indent.
Curly quotes, please—no straight quotes.
If you're not sure if your story is suitable, don't query; just go ahead and submit, and let our editors decide.
Deadline: July 30, 2019, or until filled. Be aware that all of our anthologies have filled before the deadline, so don't wait until the last  minute to submit.
As always, if you want a good idea of what we're looking for, check out the previous anthologies in The Dark Series: Hides the Dark Tower, In a Cat's Eye, and Dark Luminous Wings:
https://poletopolepublishing.com/series/dark-stories/
Via: Pole to Pole Publishing.
About the Author
Latest Posts
Stuart Conover is a father, husband, published author, blogger, geek, entrepreneur, horror fanatic, and runs a few websites including Horror Tree!