Taking Submissions: Haunted Playthings: 13 Tales of Terror Based on True Stories…or are they?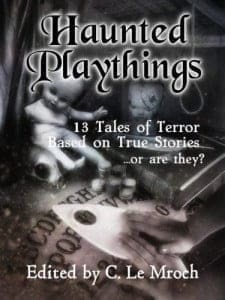 Deadline: August 31st, 2019
Payment: $10 and a contributor's copy
We are currently accepting submissions for Haunted Playthings: 13 Tales of Terror Based on True Stories…or are they?
It will follow the same format as our first anthology, Shadow People and Cursed Objects: 13 Tales of Terror Based on True Stories…or are they?
In case you're not familiar with our first anthology, it included a mixture of short stories about shadow people and cursed objects. Some were based on real events or objects. Others were inventions of the author's imagination.
The fun was for the reader to decide which was based on fact, and which was made up. All was revealed in the Truth or Fiction section.
We're going to do it again this time.
What We Want
As the title suggests, Haunted Playthings will contain thirteen short stories about just that…haunted playthings. Including (but not limited to):
Ouija boards
Haunted dolls
Haunted video games or electronic toys
Possessed rocking horses
Haunted tricycles
Spooky swing sets or playgrounds
Whatever other kind of haunted plaything you want to write about! Yoyos, hula hoops, Slinkys, stuffed animals, fidget spinners, puzzles, action figures, dress up clothes, Slip and Slides, coloring books…there are loads of possibilities really.
Your story can be based on a true account of a haunted plaything (think Robert the Doll, Annabelle the Haunted Doll, or even Lake Shawnee Amusement Park). Or your story can be a total invention of your imagination. Your choice.
Get creative and have fun!
Length
Story: 1,000 to 5,000 words
Truth or Fiction explanation: up to 500 words
Other Story Requirements
No previously published stories. However, feel free to submit as many original stories as you want.
Simultaneous submissions are okay, but if it gets accepted elsewhere please tell us so that we can take it out of consideration for our anthology.
Payment
$10 + 1 print copy
Deadline
August 31, 2019
How to Submit
Manuscripts and Truth or Fiction explanations must be in .doc or .rtf format. (It is okay to include the Truth or Fiction explanation at the end of your story.)
Email subject line: Haunted Playthings Submission/Story Title
Include in email: (1) A one sentence description of your story,  (2) a 100 words or less author bio, (3) Facebook and Instagram links (if available), (4) your website and/or blog link(s).
Email all of the above to: submissions [at] hauntjaunts.net – remove the [] and spaces and change "at" to an "@" before sending. (Trying to dodge spambots. Thanks for understanding.)
The Process
Final decisions will be made once the submission deadline ends. (August 31, 2019)
Please allow up to three months after submissions close for review and response.
We look forward to reading your submission!
Via: Haunt Joints.
About the Author
Latest Posts
Stuart Conover is a father, husband, published author, blogger, geek, entrepreneur, horror fanatic, and runs a few websites including Horror Tree!