Taking Submissions: Kids Are Hell!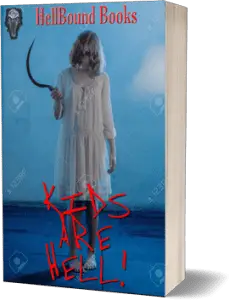 Deadline: June 30th, 2022
Payment: $5
Theme: Scary Kids
You don't have to be a parent to know just how horrifying children can be.
We want your stories innocent youngsters turned malevolent (think: The Omen, Children of the Corn, The Midwich Cuckoos, etc.)- the more terrifying the better!
PLEASE read and adhere to our submission guidelines… 
* Word format saved in .doc, or .docx
* 12 pt times new roman
* Double spaced
* Absolutely NO extra lines between paragraphs!
* 4K-10K word count
* Write 'KIDS' along with your name and story title in the header of your email
*The body of your submission email will be considered the cover letter.
* The submission documents are to be separated and Word (.doc or .docx) documents are to be attached to your submission email.
To submit, email your polished story to [email protected]
– Make sure that you check your mss for grammar and punctuation, use our guidelines to help you:
DOWNLOAD YOUR HBB GUIDE TO GRAMMAR HERE (PDF)
Deadline: 30 June 2022
NO REPRINTS – ORIGINAL UNPUBLISHED WORKS ONLY
Payment – $5.00 for first rights.
Capped at 120K words in total.
Via: Hell Bound Books.
About the Author
Latest Posts
Stuart Conover is a father, husband, published author, blogger, geek, entrepreneur, horror fanatic, and runs a few websites including Horror Tree!