Taking Submissions: It Came From the Closet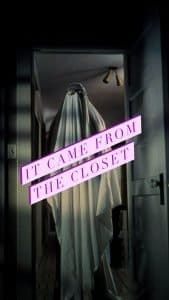 Deadline: October 31st, 2020
Payment: Contributors Copy and an unknown amount
Theme: Queer memoirs deepened, amplified, illuminated, and (re)considered through the lens of a various horror movies
Horror movies hold a complicated space in the hearts of the queer community: historically misogynist, and more than occasionally homo- and transphobic, the genre has also been inadvertently feminist and open to queer readings, thanks to tropes such as: the circumspect and resilient "final girl," body possession, costumed villains, secret identities, things that go bump in the closet. Horror films have also been, for many of us, a safe space where our closeted selves could hide in plain sight among our cis, heteronormative peers and, for two hours in the dark, share in the camaraderie of fear and vulnerability without giving ourselves away…
It Came from the Closet will be, at its core, a strong and eclectic collection of queer memoirs deepened, amplified, illuminated, and (re)considered through the lens of a various horror movies (international, obscure, classic, mainstream – open to all!).
Submissions should be personal essay/memoir/creative nonfiction ranging from 2500-7500 words, though length and format/structure are flexible if the writing calls for it. We are committed to inclusivity along the LGBTQIA spectrum, particularly QTBIPOC voices.
Previously unpublished work preferred.
Final Submission Deadline: October 31, 2020.
Contributor Payment: All contributors will receive a copy of It Came from the Closet upon publication and a modest honorarium (amount TBD).
Send queries, pitches, questions, and submissions to: [email protected]
Via: Lambda Literary.
About the Author
Latest Posts
Angelique Fawns writes horror, fantasy, kids short stories, and freelance journalism. Her day job is producing promos and after hours she takes care of her farm full of goats, horses, chickens, and her family. She has no idea how she finds time to write. She currently has stories in Ellery Queen, DreamForge Anvil, and Third Flatiron's Gotta Wear Eclipse Glasses. You can follow her work and get writing tips and submission hints at http://fawns.ca/.