Taking Submissions: I Want That Twink OBLITERATED!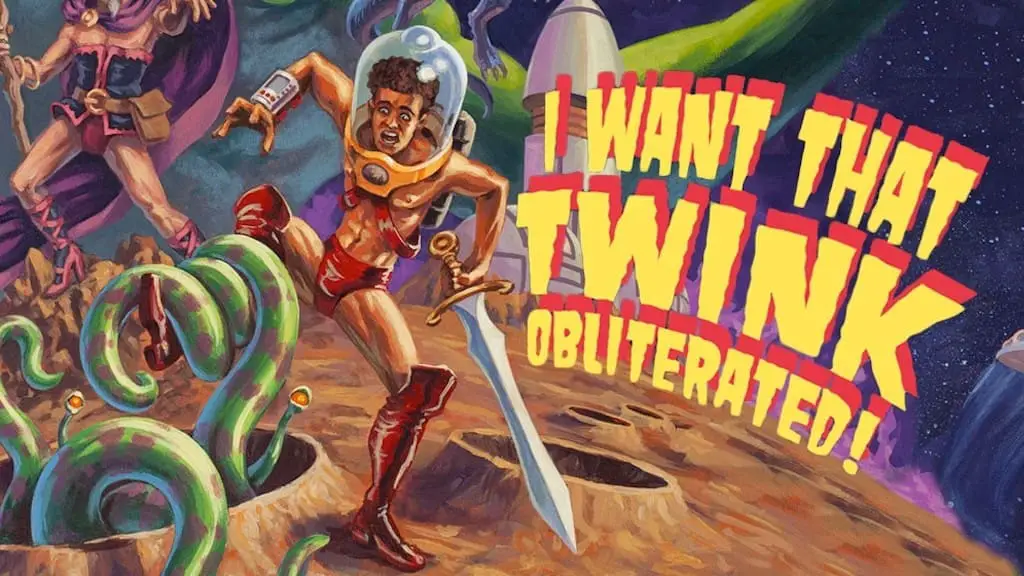 Deadline: December 17th, 2023
Payment: 9 cents per word
Theme: Science-fiction, fantasy and horror, inspired by classic pulp magazines, starring LGBTQIA+ heroes and villains.
IWTTO! is seeking classic pulp adventures centring non-traditionally masculine queer heroes and villains. If you've ever found yourself reading Ray Bradbury, Robert Heinlein, Robert E. Howard or Fritz Leiber, and just wanted it to be more sodding gay then this anthology is for you.
Whether fantasy, science-fiction or horror, we want to prove that hetero himbos don't hold a monopoly on giant swords. We want out and proud thrill-rides starring queers who don't give a frack what society says. Smash systems, kiss boys, be gay do crime. Concept: Pulp-inspired science fiction, fantasy and horror that explores or subverts classic genre tropes through queer protagonists and villains, particularly those who are non-traditionally masculine.
What we're looking for: Stories that take full advantage of pulp excess ("more is more"), and that have queerness at their core. The Editors take a broad definition of queer and we want to see stories that speak to our own community. We love our LGBTQIA+ heroes AND villains, and are just as eager for queer rage blood baths as we are for Flash-Gordon-style space opera. Bring us your femboy starship captains, bring us to trans berserkers fuelled by queer rage, bring us your literal demon twinks. Most of all, bring us stories that make you shriek…
"I Want That Twink OBLITERATED!"
Guidelines:
● We are seeking original science fiction, fantasy and horror stories written in English. This is an inclusive LGBTQIA+ anthology from a queer press and we want stories that uphold that ethos.
● Instructions: All stories should be submitted through our online form as a .doc or .docx file. If for any reason you are unable to use a Google login to submit this form, please contact bona.to.books[@]gmail.com (without the square brackets) and we will arrange an alternate method of submission.
● Simultaneous submissions are fine, but please withdraw immediately if your story is accepted elsewhere. No multiple submissions, but if you have a story rejected before the deadline you may submit again. (Although note: The editors make no promises about how quickly submissions will be reviewed.)
● Word Count: Stories should be no more than 6,000 words long, but 4,000-5,000 is ideal. Flash fiction will happily be considered, but as the exception rather than the rule.
● Format: We don't wish to create barriers to entry, so if you have a story in standard manuscript format you're absolutely fine. However, the editors are fans of Modern Manuscript Format, Garamond, and italics as italics.
● Rates: Authors will be paid $0.08 /word for worldwide English language rights (including audio, if that stretch goal is met).
● Cover letters: None! Nada! Not required! There is a box on the form where you can tell us any information that you think we really need to know about you (awards noms, pro publications, specific expertise relevant to the story). However, we won't read any of this until after your story, so don't worry about selling yourself.
● Reprints: We are seeking original English language stories and will not consider reprints.
● Enquiries: Please contact bona.to.books[@]gmail.com (without the square brackets) if you have any questions or problems, but do not send any submissions to this address.
● Responses: We are aiming to respond to all submissions by 31 January 2024. Please query if you have not heard back by then.
● AI-Assisted Writing: …can get in the bin. At once. Off you pop.
● Notes on Stories:
○ The editors define "twink" very broadly and encourage authors to do so too (indeed, break the concept apart and subvert it if you fancy). Our real focus is on exciting, queer stories with non-traditionally masculine heroes or villains.
○ We are seeking all types of science fiction, fantasy and horror, as long as it is queer and fits with our pulp/genre vibe.
○ For the editors, queerness embraces a full spectrum of identities and experiences. Ace/aro, trans, nonbinary and intersex stories are all welcome.
○ The editors are particularly interested in submissions from trans, non-binary, or intersex writers; aro or ace writers; disabled writers; neurodiverse writers; black, south asian, or east asian writers; or other writers of colour.
○ Given the long, fabulous history of queer-coded villains, the editors would love a mix of stories that explore heroes' and villains' perspectives.
○ The editors have no interest in gratuitous sexual violence or unexamined prejudice. Great stories can grapple with these things, but if you're using them as window-dressing it's not for us.
● If you're in doubt whether your story fits, submit and let our editors take a look. Don't self-reject!
The Submission Portal is now LIVE!
Via: I Want That Twink OBLITERATED!'s Kickstarter.
About the Author
Latest Posts
Stuart Conover is a father, husband, published author, blogger, geek, entrepreneur, horror fanatic, and runs a few websites including Horror Tree!