Taking Submissions: Giant Robot Poems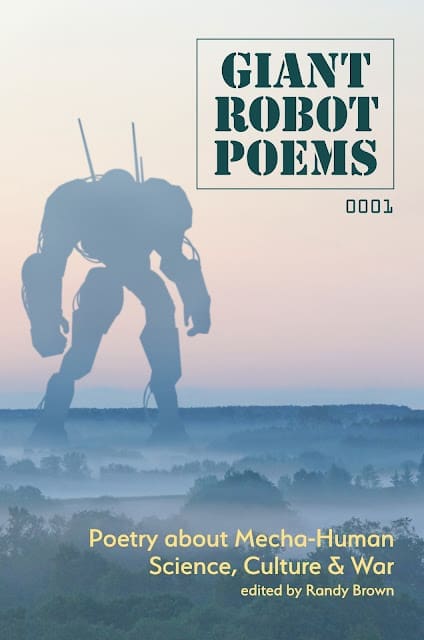 Deadline: December 4th, 2023
Payment: Contributors Copy
Theme: War Poems about Emerging & Future Tech
Middle West Press LLC, an independent micro-publisher of military-themed and -adjacent literary projects, has issued a call for human-generated poems engaging with  "Giant Robot" technology themes. This is a "speculative poetry" market.
What is a "Giant Robot" theme? For this project, the term "Giant Robots" can include examples of technologies in timelines both real and imagined, and of any size or (even formless) form. Living Ships. Loitering Drones. Taxi-cab AI. Robot Tanks. Virtual Soldiers. Space Explorers. Mecha-suits. In short, any vessel for exploring themes of human-electro-mechanical-cyber interaction, connection, and competition.
The working title of this project is Giant Robot Poems: Poetry About Mecha-Human Science, Culture & War.
Editors of the project write:
Our intent with this project is to have fun, but also to illuminate, interrogate, and challenge (via the still-human domain of poetry!!!) the ways people think about emerging and future technologies such as robots and drones, Artificial Intelligence (AI), cybernetic enhancements, etc. We are looking for terrain-shifting, mind's-eye-bending, firmament-rending expressions of new and future realities. Be provocative. Be poignant. Be human. Even if you write like a Giant Robot.
Ideally, many of the works submitted will engage such questions as:
How does technology potentially change human behavior / culture / society?
How does technology potentially change human behavior ethics / values?
How does technology potentially change the ways humans fight / love / think / feel?
Many examples of "Giant Robot-ness" exist in today's news and culture. As a starting point or prompt, our editors offer a list of examples and inspirations. In creating and crafting their own, original concepts and works, poets might consider various modes of commenting, observing, or even inhabiting technologies, mythologies, or stories depicted in these and other venues:
Giant Robots in Modern News & Modern War. Examples & inspirations include:
Giant Robots in Literature. Examples & inspirations include:
Giant Robots in TV, Toys, Movies & Animation. Examples & inspirations include:
Giant Robots in Comics. Examples & inspirations include:
Giant Robots in Video & War Games. Examples & inspirations include:
SUBMISSION GUIDELINES:
Deadline for submissions is Dec. 4, 2023. Notifications will be sent not later than Jan. 1, 2024. Target publication date for this project is April 2024.
Submit from 1 to 3 poems in the same file (.DOC or .DOCX).
Work generated using ChatGPT and similar computer-assisted word "AI" will NOT be accepted. Human-generated poems only, please.
New and original work is preferred. Please note in cover letter whether specific works have previously been published elsewhere.
Simultaneous submissions are accepted. Please notify the editors via Submittable if one of more poems becomes unavailable during the consideration period.
Publisher requests non-exclusive, worldwide, English-language print and e-book anthology rights.

Contributors will receive one complimentary print or digital (where postal delivery is not available) contributor's copy.
Submit work via the publisher's Submittable page here at this link.
Via: Middle West Press.
About the Author
Latest Posts
Stuart Conover is a father, husband, published author, blogger, geek, entrepreneur, horror fanatic, and runs a few websites including Horror Tree!