Taking Submissions: Hinnom Magazine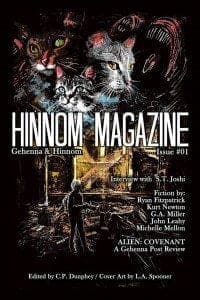 Deadline: July 15th, 2017
Payment: $0.005 cents per word with a minimum payment of $5.00 and a maximum cap of $25.00
Greetings from the Valley of Hinnom,
Hinnom Magazine is a bi-monthly e-zine that publishes high quality science fiction, fantasy, and horror on the last day of every other month, starting in February.  We seek authors who have a unique voice, interesting writing styles, and unparalleled storytelling talents.  We do not shy from topics or concepts of a darker nature and, actually, encourage it.
READING PERIODS:
January 1-15th
March 1-15th
May 1-15th
July 1-15th
September 1-15th
November 1-15th
PUBLICATION DATES:
February 28th
April 30th
June 30th
August 31st
October 31st
December 31st
Please submit stories during first fifteen days of the months selected as reading periods.  Stories received after this will not be read.  Artists can submit year round.
(Inaugural Issue will be Published on June 30th)
FICTION SUBMISSION DETAILS:
List of Genres Accepted in Alphabetical Order:
Body Horror
Cosmicism/Cosmic Horror
Cthulhu Mythos/ Lovecraftian Horror
Cyberpunk
Dark Fantasy
Dieselpunk
Dystopian Fiction
Fantasy
Gothic Horror
Grimdark Fantasy
Hard SF
Hardcore Horror
High Fantasy
Horror
Macabre horror
Occult Fiction
Post-Human/Trans-Human SF
Psychological Horror
Science Fiction
Space Opera
Steampunk
Sword and Sorcery
Weird Fiction
Any blending of these genres is also fine.  We encourage creative takes on classic themes.  In fact, combining these concepts will likely increase your chance of publication.
Science Fiction is meant to beg the question, "What if?"
Horror is meant to entice the very emotions that define our species: fear, terror, and dread.
Fantasy focuses on imaginative detachment from reality, forging worlds and universes unseen and unheard.
These genres require the utmost levels of creativity and we want to read your most macabre, disgusting, imaginative, fantastical, morose, colorful, and prophetic tales.
RIGHTS SOUGHT FOR ORIGINAL ART 
Non-exclusive electronic, print, and reprint rights
Ability to use the art for promotional and advertising purposes
RIGHTS SOUGHT FOR FICTION
Copyright remains with the author at all times
First world electronic and print rights in English with exclusivity for 6 months from the date of publication
If selected and approved to be republished in an anthology in the future, the author whose piece is submitted will be paid $0.005 cents per word with a minimum payment of $5.00 and a maximum cap of $25.00.
SUBMISSION GUIDELINES
All fiction must be submitted in proper manuscript format.  If you have any doubts regarding what this is, click on this link.
STORIES THAT ARE NOT FORMATTED PROPERLY WILL BE REJECTED IMMEDIATELY!
Suggestions for styles we are searching for include, but are not limited to, the following authors: H.P. Lovecraft, Frank Herbert, Thomas Ligotti, T.E. Grau, Laird Barron, Brian Evenson, Nathan Ballingrud, Ursula K. Le Guin, W.H. Pugmire, Isaac Asimov, Philip K. Dick, Stephen King, Neil Gaiman, Clive Barker, etc.
ARTWORK: Artwork used for individual covers of online and print magazines, anthologies.  Payment dependent on artist.
FLASH FICTION: 250 to 1000 words. Paid $10 per story accepted.
SHORT STORIES: 1001 to 5000 words. Paid $15 per story accepted.
NO REPRINTS ALLOWED. FICTION MUST BE ORIGINAL AND UNPUBLISHED. 
All payments are made through Paypal on the day of publication.  Fiction can only be sold as a reprint after publication.  
WHAT NOT TO SUBMIT:
Absolutely NO erotica or fan fiction.
If vulgarity or obscene concepts are not integral to the plot, expect a rejection.  The most taboo topics you can think of are okay, as long as they are executed in a professional and intellectual manner.
No excerpts from novels or unfinished pieces.  Stories must stand on their own with a beginning, middle, and end.
No simultaneous submissions, though multiple submissions are okay, as long as you don't exceed three during a reading period.  Wait at least five days before submitting again if rejected.
No reprints.
Stories with numerous errors, including grammatical, syntax, and/or punctuation errors.  We are proud of our professionalism at Gehenna & Hinnom Books and we hope to publish authors who share our professional outlook on the writing industry.
HOW TO SUBMIT:
Send all submissions and inquiries to gehennapublishinghouse (at) gmail (dot) com.
Manuscript must be properly formatted and edited before anything else. See format guidelines here.
Title email as follows: Hinnom(Abbreviated Month of Reading Period Submitted)/(Title of Story)/(Name)  Example: HinnomJan/Grau/Screamer
Attach properly formatted manuscript to email as either a DOC, DOCX, or RTF file.  No others are accepted.  Do not include story in body of email.  This will be grounds for automatic rejection.
Include in the body of your email, or as a cover letter to your manuscript, a short bio including any publication history, awards, social media links, etc.
Artists, please send all artwork to us as either a JPEG or PNG.
RESPONSE TIME:
We are aware that your time is very valuable as a writer and that when rejected, your first move is to submit elsewhere.  Because of this, we hope to respond to your submission within two weeks of it being received.
LEGALITIES:
By sending us your work you understand and agree that:
You are the original creator and copyright holder of the work submitted.
You are not prohibited by any prior agreement from the transfer of exclusive electronic & print rights in English, and reprint rights.
All information submitted is accurate and truthful.
You accept sole responsibility for any false statements upon rights not disclosed.
If you are under the age of 18, unfortunately, we cannot accept your submission.  Hinnom Magazine is an adult magazine and because of this, we require all authors to be of legal age to read and/or submit to it.
Finally, if accepted here and then republished, you are required to add the volume and issue you were published in.
Thank you so much for your time and we cannot wait to read your fascinating works.
Via: Gehenna and Hinnom.
About the Author
Latest Posts
Stuart Conover is a father, husband, published author, blogger, geek, entrepreneur, horror fanatic, and runs a few websites including Horror Tree!