Taking Submissions: Chiral Mad 5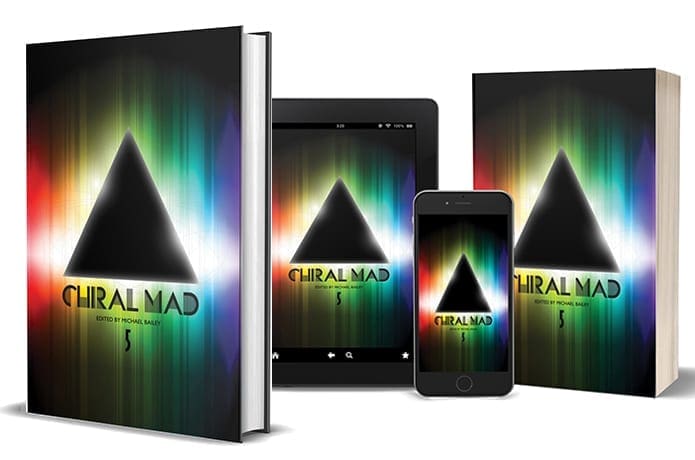 Deadline: December 31st, 2020
Payment: $0.06/word, contributors copy
Theme: The End Is the Beginning / The Beginning Is the End
Note: Only open to underrepresented demographics (POC, LGBTQIA+, female)
My voice needs to be heard. How can I submit?
If you are not part of an underrepresented demographic (POC, LGBTQIA+, female), please do not submit at this time, but feel free to send recommendations; otherwise, if you feel your voice needs to be heard, send your submission to [email protected] (or just click the email link, but read the next part before doing so). There are no formatting guidelines other than file type: .doc, .dotx, .rtx, or plain text. The words are what matter.
What can I submit?
Fiction (5,000 words or fewer recommended, payment capped at 5K), only one submission at a time. If you receive a rejection, feel free to submit again, immediately. No reprints.
Poetry (50 lines or fewer, payment capped at 50 lines), up to 5 poems at a time. If you receive a rejection, feel free to submit up to 5 more, immediately. No reprints.
Artwork (9.25 height x 6.25 width, 300 DPI, black-and-white), .jpg preferred for initial consideration.
Payment
Fiction – $0.06 per word, US, capped at 5,000 words
Poetry – $1 per line, US, capped at 50 lines
Artwork – exposure only, unless contracted individually
Contributor copies of all editions
Deadline
December 31st, 2020 (end of the year, basically)
Contract
A publishing contract will be made available for all accepted work, to be signed by both parties prior to publication. Here's what you can expect:
Written Backwards requests first worldwide print rights
Rights revert back to the creator immediately upon publication
You're allowing your work to be published in this anthology for as long as there is a need for the anthology, but you get your rights back the moment it goes to print
Simultaneous publication in deluxe hardback (exclusive to this campaign), trade hardback, trade paperback, and eBook
Via: Chiral Mad 5's Indiegogo.
About the Author
Latest Posts
Stuart Conover is a father, husband, published author, blogger, geek, entrepreneur, horror fanatic, and runs a few websites including Horror Tree!