Spirit (Rated R)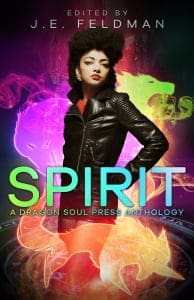 Deadline: December 31st, 2020
Payment: Royalties
Theme: All shifters
Deadline – December 31st, 2020
Publication – April 2021
Word Count – 5,000-15,000
Theme – Shifters! Any animal shifters, settings, genres, etc are acceptable. All stories must include a main or secondary character that does not have a heterosexual preference.
Publisher INFORMATION
Company name:        Dragon Soul Press
Anthology Submission Email: [email protected]
Website:                    http://dragonsoulpress.com/
Facebook:                  http://www.facebook.com/dragonsoulpress/
Duotrope:                   https://duotrope.com/listing/26543/dragon-soul-press
The Grinder:              https://thegrinder.diabolicalplots.com/Market/Index?id=9529
CHECKLIST
Introduction of author                                                        This is not where the biography goes.
Author Contact Information / Pen name MUST be included with real name. If real name is same as pen name, state so in email.
Author Biography in Third Person in 100-200 words        Mandatory minimum of 100.
Submission Word Count                                                   Also applies to poetry. Word count. Not line count.
Submission Formatted in Times New Roman 12 PT Font. One-inch margins. No indentations. No double-spacing. No extra spacing between paragraphs. No chapters. Only DOC and DOCX accepted.
Summary/Query Letter                                                      Summarized outline of all major events within the story.
All emails should be addressed as "Dear Editor"
Email subject and file name must be as follows – "Story
Title by Author Name for (Name of) Anthology"
All of the author's social media links, including website if applicable
Author must have an active social media account.
Important information
Maximum of two submissions per anthology per author. Authors can submit to all anthologies simultaneously.
Reprints from third party sources accepted IF author currently holds full rights. We will not publish duplicate stories within DSP.
Authors get 30% Royalties for first year from date of publication. Afterwards, 30% of all proceeds go to a charity chosen by the Publisher.
Story rights – The Publisher permanently reserves the right to publish the Work within the
Anthology while the Author keeps ownership rights to the Work. Do not submit anthology stories with chapters.
All submissions will be reviewed within thirty (30) days of the anthology's deadline.
After receiving edits back, the author has two weeks to return the submission for formatting.
POETRY SUBMISSIONS: All poetry needs to be contained within a single email. Each poem should be in a separate document. Haikus may be grouped together.
Extensions: Due to the massive number of submissions received per anthology, DSP no longer offers authors an extension. Submission calls are posted upwards of 1-4 years at a time.
Via: Dragon Soul Press.
Via: Dragon Soul Press.
About the Author
Latest Posts
Stuart Conover is a father, husband, published author, blogger, geek, entrepreneur, horror fanatic, and runs a few websites including Horror Tree!