Epeolatry Book Review: Dark Stars: New Tales of Darkest Horror Edited By: John F.D. Taff


Disclosure:
Our reviews may contain affiliate links. If you purchase something through the links in this article we may receive a small commission or referral fee. This happens without any additional cost to you.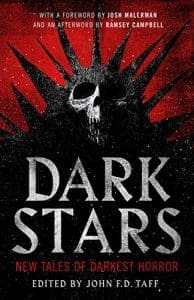 Title: Dark Stars: New Tales of Darkest Horror
Edited By: John F.D. Taff
Publisher: Tor Nightfire
Genre: Horror
Release Date: 10th May, 2022
Synopsis:Within these pages you'll find tales of dead men walking, an insidious secret summer fling, an island harboring unspeakable power, and a dark hallway that beckons. You'll encounter terrible monsters—both human and supernatural—and be forever changed. The stories in Dark Stars run the gamut from traditional to modern, from dark fantasy to neo-noir, from explorations of beloved horror tropes to the unknown—possibly unknowable—threats.
It's all in here because it's all out there, now, in horror.
Dark Stars features all-new stories from the following award-winning authors and up-and-coming voices: Chesya Burke, Ramsey Campbell, Gemma Files, Stephen Graham Jones, Alma Katsu, Caroline Kepnes, John Langan, Livia Llewellyn, Josh Malerman, Usman T. Malik, Priya Sharma, and John F.D. Taff. Created as an homage to the 1980 classic horror anthology Dark Forces, edited by Kirby McCauley, Dark Stars features an afterword from original contributor Ramsey Campbell—a poignant finale to this bone-chilling collection.
Taff is not only an accomplished author but also has done an amazing job at putting together anthologies in the past. When I saw that he had a new one coming out that was meant to pay tribute to the iconic 'Dark Forces' anthology from 1980, I had to check it out.
I was not disappointed.
This collection brings us 12 tales of terror that I'm glad I don't have to rank as every installment was worth reading, all handling different areas of the horror genre. For those who love cosmic horror as I do, you'll be head over heals loving this outing.
So which stories stood out for me?
Taff's "Swim in the Blood of a Curious Dream" was one I was immediately drawn to, and I feel that I could see it in my head. It felt very much like something that could be a movie or episode on an anthology television series.
Gemma Files brought us "The Sanguintalist" which was outstanding. I've loved Files' work for a while now and this one is no different.
I don't want to go with the defaults here, but Stephen Graham Jones also tends to deliver solid works, and this proves true with "All the Things He Called Memories."
Ramsey Campbell delivered a solid tale as always with "A Light in Nightmares" slowly weaving a tale of cosmic horror that really pays off in the end.
Speaking of cosmic horror, Livia Llewellyn's "Volcano" was, an amazing read. I have not read Llewellyn's work before and my favorite thing about anthologies is discovering authors I haven't previously read, and this is one who I'll be stalking their Amazon profile soon to find other works to check out! (Editor's note: I HAVE, in fact, read her work before though it has been a few years and I've only read one short story which I had enjoyed. I will be reading more of her work in the near future!)
These may have been my five favorite stories, but the entire anthologies made for a good read. Many of the tales within can start off as a slow burn and all of them deliver a solid payoff. With a focus on folk and cosmic horror, you've got a lot of great stories to read here that will keep you up at night!

/5
About the Author
Latest Posts
Stuart Conover is a father, husband, published author, blogger, geek, entrepreneur, horror fanatic, and runs a few websites including Horror Tree!