Epeolatry Book Review: Body Shocks: Extreme Tales of Body Horror, ed. Ellen Datlow


Disclosure:
Our reviews may contain affiliate links. If you purchase something through the links in this article we may receive a small commission or referral fee. This happens without any additional cost to you.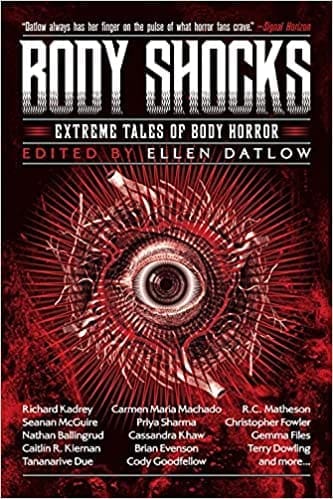 Title: Body Shocks: Extreme Tales of Body Horror
Author: Various, ed. Ellen Datlow
Genre: Horror
Publisher: Tachyon Publications
Release Date: 19th October, 2021
Synopsis: Bestselling editor Ellen Datlow (Lovecraft's Monsters) presents body horror at its most wide-ranging and shocking best. Discover twenty-nine intricate, twisted tales of the human body, soul, and psyche, as told by storytelling legends including Carmen Maria Machado, Richard Kadrey, Seanan McGuire, Caitlín R. Kiernan, Nathan Ballingrud, Tananarive Due, Cassandra Khaw, Christopher Fowler, and many more.
The most terrifying thing that you can possibly imagine is your own body in the hands of a monster.
Or worse, in the hands of another human being
In this definitive anthology of body horror selected by a World Horror Grandmaster, you'll find the unthinkable and the shocking: a couture designer preparing for an exquisitely grotesque runway show; a vengeful son seeking the parent who bred him as plasma donor; a celebrity-kink brothel that inflicts plastic surgery on sex workers; and organ-harvesting doctors who dissect a living man without anesthetic.
I honestly believe that Ellen Datlow curates some of the best anthologies that have been released. She is highly prolific in the community from her Best Horror of the Year series, though that doesn't even scratch the surface of what she is able to put together. One of her latest releases is 'Body Shocks' and the tagline shares that it is full of 'Extreme Tales of Body Horror.' What an understatement. 
Datlow truly was able to put together a great collection here and has been able to cherry pick some of the best body horror to have ever been put in print. As a reprint anthology with no time limit, we have stories from across the spectrum of releases with works by names you'll recognize even for casual horror readers to those fully entrenched in body horror and a few names that will likely be new to you as well. 
This collection includes nearly 30 tales of terror, and it feels like an injustice to just list off my favorites as really, they're my favorites by a matter of degrees. This is a quality collection that I'm thrilled to have on my bookshelf. We've had a few of these authors interviewed or reviewed their works in the past on the site as well so it was hard to not bring up stories by Gemma Files or Stephen Graham Jones. Both give us amazing stories in this release, and hopefully you can ignore my bias of familiarity when I say that. 
This collection of body horror will make you cringe and squirm in all the right ways and really does the genre true service. Lucy Taylor tosses us into the post-apocalyptic deep end with "Subsumption" which I quite enjoyed as for nearly a decade it was tied as my favorite horror genre with the undead (which are technically a post-apocalyptic sub-genre as well!) 
Another true stand out is Genevieve Valentine's "La beaute sans vertu" that delivers a rather unique take on the fashion industry. 
However, I will say that you'll be sucked in right from the start as Ray Cluley helps you put your feet up as you read "The Travellers Stay." 
As a parent, the one that stood out the most to me was "A Positive" by Kaaron Warren. I'm totally not comfortable with horrifying things happening to kids and this story delivered on that discomfort. It was the only one I can't say that I "loved" even though I did enjoy reading it. Even with that in mind, it was well worth the read! 
If you love body horror, if you're interested in body horror, if you love horror and want to expand your horizons – this is the collection to get. Datlow has outdone herself on bringing together a set of body horror tales that will keep your eyes attached to the page until the bitter end. 

About the Author
Latest Posts
Stuart Conover is a father, husband, published author, blogger, geek, entrepreneur, horror fanatic, and runs a few websites including Horror Tree!