'Dominic's Ghosts' Blog Tour – And Get off My Lawn… Some Writerly Advice from 30 Years of Doing This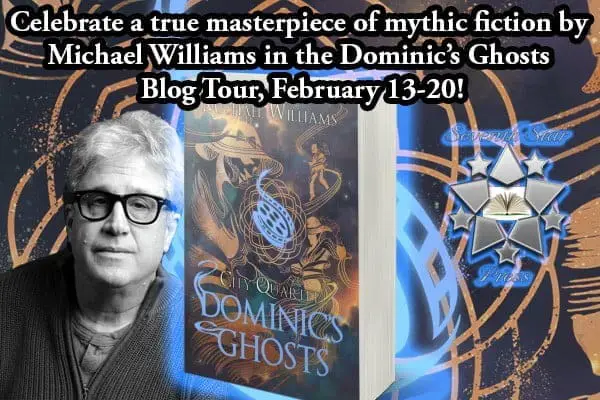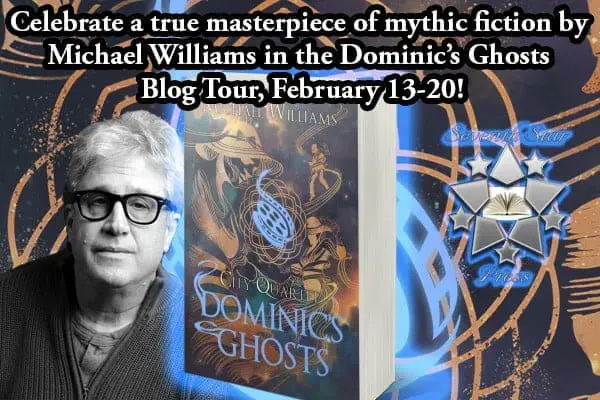 And Get off My Lawn…
Some Writerly Advice from 30 Years of Doing This
When I'm asked to write about writing, I usually say something about the insides of stories, but these days it seems as though the world is overflowing with the particular "how-to" of plot and character, and even more about how to market and sell your books once you're ready to do so.  I don't know how much more insight you gather on these matters from thirty years of doing it, but one thing that long experience teaches you is how to persist and endure in the art and craft.
So at risk of being a curmudgeon, here are some things I've learned along the way:
About ten years ago at a convention, I heard a beginning writer, buoyed by newfound popularity, proclaim that none of us in the audience should "consider what we're doing to be art."  To this day, I'm not altogether sure what we should consider it instead.  My work may not be good art, but it's not a business: I thought it might be, when my first novel, Weasel's Luck, was a best-seller and the first quarterly royalty check was over $25,000…
But it has never happened again.
Believe me.
It hasn't.  Or at least at nowhere near that amount.
If I were considering my novels as business alone, the books as "product," I would be better off as a stockbroker or having gone to law school.  Barring the rarest coincidence, you don't make big money writing novels: what you can do, though, is deepen your experience of the world, and if you do that well, you can deepen the experience of others.
I may not be the greatest success as a novelist, but I have thirty years of publication under my belt, and a few people still living have heard of me.  I've found that I am sharpest and most productive when I follow these simple guidelines:
Your craft may not end up a lucrative business, but you'll be at your best if you regard it as a profession. The novelist John Cheever rented a small room to write in—a bare, boring little alcove off the laundry of his apartment building.  He dressed for work every day—jacket and tie—and went down to "the office" at the same time.  When you create respectful and regular habits surrounding your work, you come to value the practice more, and you incline more to the discipline that's needed for an artist undertaking a sustained and lengthy work like a novel.
Every writer advises other writers to read. What I don't hear as much, is someone speaking to the art of reading—how to read. This means to read constantly—not just your own writing or the writing of your friends, and not just work in your genre.  Read the writing time has honored, assuming the regard it is due: if a 19th century novel seems slow-paced to you (and it may, because narrative style was different back then), look toward other things the writer might be doing besides moving from plot point to plot point.  How does she draw characters? Choose descriptive detail? When does she show?  When does she tell? When does she step away from immediate and dramatic action to say something larger about the arc of the novel?  There are other things to learn from good fiction besides fast action.  Take your time while reading, and absorb those things.
I don't use film or television as my guide to writing prose fiction. This is not snobbery: I would use screenplay or teleplay as my models if those were what I was writing.  But TV and movies tell stories differently than novels or short fiction—an obvious fact until you get down to the process of writing.  I tend to use the novel as my model instead.  To make the tactics match.
I take a manuscript through one more draft than I think it needs. This practice has never failed to uncover things that need attention.  I also am not in an all-fired rush to publish a piece: I wait, let it simmer, allow space between drafts to think about what I've done.  I've accused of working slowly; instead, I look at my practice as working constantly and at length.
Despite the changes in the publishing world, I am more at peace spending my time in writing than in marketing. I know writers who are just the opposite, but I am more satisfied in my work when producing fiction takes precedence over selling fiction.  To those of you who would say, "but you need a marketing strategy in order to be a writer," I understand and respect that argument, but stick by what I said in this post before I got to the list.
All of these things add up to respect.  This is still an art.  Selling your work is a worthy pursuit, but it is not your art, regardless of what someone at a convention might tell you.  Sit down at your desk, same time, same place (the little alcove off the laundry is open now).  You owe it to your work to respect it.
Get ready to explore a gem of mythic fiction in Michael Williams' Dominic's Ghosts Blog Tour. Taking place February 13-20, 2019, this blog tour celebrates a new stand-alone novel in Michael's ambitious City Quartet.
Atmospheric and thought-provoking, Dominic's Ghosts will take you on a unique kind of journey that involves a conspiracy, legends, and insights from a film festival!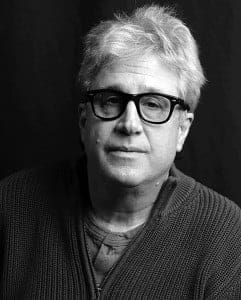 About the author: Over the past 25 years, Michael Williams has written a number of strange novels, from the early Weasel's Luck and Galen Beknighted in the best-selling DRAGONLANCE series to the more recent lyrical and experimental Arcady, singled out for praise by Locus and Asimov's magazines. In Trajan's Arch, his eleventh novel, stories fold into stories and a boy grows up with ghostly mentors, and the recently published Vine mingles Greek tragedy and urban legend, as a local dramatic production in a small city goes humorously, then horrifically, awry.
Trajan's Arch and Vine are two of the books in Williams's highly anticipated City Quartet, to be joined in 2018 by Dominic's Ghosts and Tattered Men.
Williams was born in Louisville, Kentucky, and spent much of his childhood in the south central part of the state, the red-dirt gothic home of Appalachian foothills and stories of Confederate guerrillas. Through good luck and a roundabout journey he made his way through through New England, New York, Wisconsin, Britain and Ireland, and has ended up less than thirty miles from where he began. He has a Ph.D. in Humanities, and teaches at the University of Louisville, where he focuses on the he Modern Fantastic in fiction and film. He is married, and has two grown sons.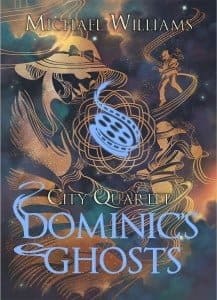 Book Synopsis for Dominic's Ghosts:   Dominic's Ghosts is a mythic novel set in the contemporary Midwest. Returning to the home town of his missing father on a search for his own origins, Dominic Rackett is swept up in a murky conspiracy involving a suspicious scholar, a Himalayan legend, and subliminal clues from a silent film festival. As those around him fall prey to rising fear and shrill fanaticism, he follows the branching trails of cinema monsters and figures from a very real past, as phantoms invade the streets of his once-familiar city and one of them, glimpsed in distorted shadows of alleys and urban parks, begins to look uncannily familiar.
Author Links:
Facebook:  https://www.facebook.com/Mythical-Realism-The-Michael-Williams-Page-128713900543978/
Tour Schedule and Activities
2/13     Ravenous For Reads   www.ravenousforreads.com  Author Interview
2/13     Breakeven Books         https://breakevenbooks.com  Guest Post
2/14     Marian Allen, Author Lady      www.MarianAllen.com           Guest Post
2/15     Inspired Chaos     http://inspiredchaos.weebly.com/blog  Guest Post
2/16     I Smell Sheep   http://www.ismellsheep.com/            Guest Post
2/16     The Book Lover's Boudoir       https://thebookloversboudoir.wordpress.com/         Review
2/17     Jorie Loves A Story      http://jorielovesastory.com    Review/Author Interview
2/18     The Seventh Star         www.theseventhstarblog.com            guest Post
2/18     Willow's Thoughts and Book Obsessions       http://wssthoughtsandbookobsessions.blogspot.com/            Review
2/18     The Horror Tree          www.Horrortree.com             Guest Post
2/19     Sheila's Guests and Reviews   www.sheiladeeth.blogspot.com            Guest Post
2/20     Jazzy Book Reviews     https://bookreviewsbyjasmine.blogspot.com/           Top Tens List
Amazon Links for Dominic's Ghosts
Print Version: https://www.amazon.com/Dominics-Ghosts-Michael-Williams/dp/1948042584/
Kindle Version: https://www.amazon.com/Dominics-Ghosts-Quartet-Michael-Williams-ebook/dp/B07F5Z4L18/
Barnes and Noble Link for Dominic's Ghosts: https://www.barnesandnoble.com/w/dominics-ghosts-michael-williams/1129262622?ean=9781948042581
About the Author
Latest Posts
Stuart Conover is a father, husband, published author, blogger, geek, entrepreneur, horror fanatic, and runs a few websites including Horror Tree!