Book Review: Beneath a Pale Sky by Philip Fracassi
Disclosure:
Our reviews may contain affiliate links. If you purchase something through the links in this article we may receive a small commission or referral fee. This happens without any additional cost to you.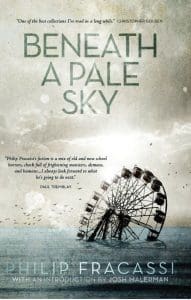 Beneath a Pale Sky, the newest offering from Philip Fracassi is as beautiful as it is frightening. It is a collection that paints imagery with such vividness, it's as if you're walking through the scenes yourself. Fans of short fiction will surely find something to enjoy among these pages. I must preface this review with my agreeance with Josh Malerman's introduction, Fracassi's writing is extremely influential. The twists and turns that most of the stories in this collection will catch you off-guard. 
Honestly, most people probably can't imagine beauty in horror, or even stories meant to disturb, but what Fracassi manages to do in most of these stories, is create characters that you feel for, that you become attached to. The emotions are authentic, grabbing hold of your readers heart and pulling you along for the ride. Most of the stories are dipped in dread, but packaged so delicately, you're enticed to keep reading, discovering just what happens next. Often, I found myself on the verge of yelling out, wanting to intervene, only to realize that what's playing out before me, is merely words on a page. If you like your fiction to evoke those sorts of reactions, well, you've found your next read right here. I want to move into some of the stories and what I enjoyed most about them. 
I'll start with probably my absolute favorite of this collection.
 Harvest: Is a beautiful but touching story about two friends, Carrie and Eli. I won't say much about this one-for the sake of not spoiling it-but the writing here is perfect. The raw emotions and imagery transport you into the scene, living and breathing among them, watching it all play out. This one still sits with me today after my initial reading of it almost two months ago now.
The Wheel: This story gave me so much anxiety, I couldn't stop reading it though. From the beginning I had the impression that I knew just what was going to happen, but let me tell you, Fracassi came in and derailed that theory almost immediately. It was chaotic, but in a good way, had me in the depths of a panic attack.
Sodajerk: A new family moves into town, but what they don't know, is that there is something awfully wrong with the other families, specifically the children. What frightened me most about this, was how it seemed no one really noticed, or that they were okay with it.
Symphony: Okay, this one is heartbreaking. Reading the struggles that Esther faces after the death of a loved one is disturbing yet, her escape, from that reality is moving. Is this truly how things can end.
Ateuchus: This one was wild, imagine making a discovery so great your very existence is questionable. I asked myself if I so happened upon anything like this, how I would respond, and the truth is, I would leave it all alone. 
ID: When reading this story, it felt as though I were living through a fever dream. ID tells the story of a young man who has been admitted to a psychiatric ward, meets a young woman, and they become friends. They even seem to continue that friendship when each is released, sometimes it's good to have friends.
Fragile Dreams: A man enters a building for a job interview, little does he know that his entire life is about to change. The odd part about this story is that we live in a time where something like this could happen at any time, and that's truly terrifying.
Death, My Old Friend: Emotionally driven and touching, despite his reputation Death doesn't seem like such a bad guy. On the other hand, that nagging feeling at the back of your mind that it looms around every corner could begin to creep in here.
Overall, this collection is inspiring, the ability to weave stories that evoke emotions in readers is what I think every author aspires to achieve, and with Beneath a Pale Sky Fracassi has certainly done so with my first encounter with his work. When we look at the possibilities around us and can create something so vividly believable, that's when things become truly horrific. 
I would like to extend an enormous thank you to Philip Fracassi for the PDF that allowed me to experience this collection before release. Now that I have the physical copy things have come full circle.
Reviewer Bio: Blake Blanco

For as long as I can remember reading has been a major part of my life, always providing an escape from my demons. A few years ago, I discovered a love of Horror Fiction that has been threaded deeply to my soul. Although I mainly focus on horror, my interests are not limited. I also enjoy dark fiction, science fiction, fantasy and thriller.
Available on Amazon and Bookshop.
About the Author
Latest Posts
The Horror Tree is a resource for horror authors which was created in 2011. The main goal when starting the site was to include all of the latest horror anthologies and publishers that are taking paying submissions. A resource useful for both new and experienced publishers alike looking for an outlet for their written material!