Writing advice from famous authors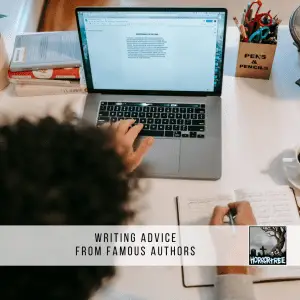 By Lauren McMenemy
"The scariest moment is always just before you start," says Stephen King. "After that, things can only get better."
It's true, but writing is hard. And scary. And it's really easy to avoid it and go wash the dishes or something. 
But writing is also magical. And wondrous. And joyful. So we've gathered together some of the best writing advice from famous authors as a way to jolt every writer out there (OK, to jolt me, I'm my own problem) into action. Below we start with George Orwell's famous rules for good writing, then some short and sharp tips from Mr King, before we deliver a whole host of different perspectives on the writing life, writing process, inspiration, and genre fiction.
What's your favourite advice from famous authors? Let us know in the comments below!