5 Contemporary Horror Comics to Get You Hooked and Spooked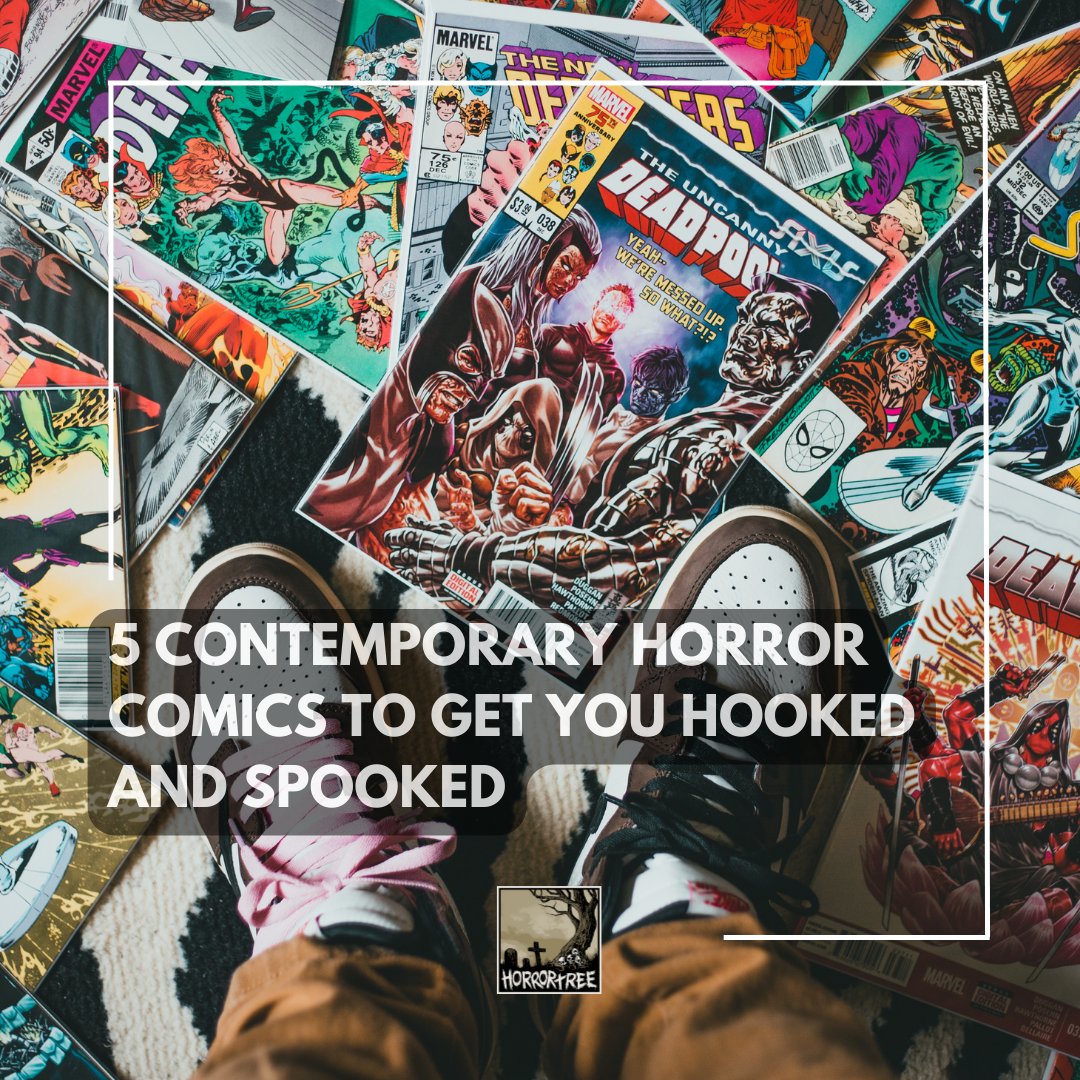 If you're a terror junkie, it's high time to add comics to your long list of horror flicks and books. Contemporary horror comics offer a unique and immersive experience, blending chilling narratives with captivating artwork. They also echo the fears and anxieties of the current era, giving you a different perspective of the horrors around you.

Not sure which titles to start with? We got you covered! Here are the top modern horror comic titles that'll introduce you to the dark wonders of this genre.
30 Days of Night
Writer: Steve Niles
Illustrator: Ben Templesmith
Photo from Penguin Random House Retail
You can't miss out on Steve Niles' polar nightmare when it comes to modern horror. You might have seen its 2007 hit film counterpart, but its three-part comic origin lets your experience a different kind of thrill. 
30 Days of Night takes you on a chilling journey as a small Alaskan town is plunged into a month-long darkness during winter, attracting a group of bloodthirsty vampires. The prolonged night sets a sinister trap for the story's intense and suspenseful atmosphere. 
The gritty artwork and relentless narrative make it a standout entry in the contemporary genre. The comic's compelling characters further amplify the sense of terror on every page.
The Walking Dead
Writer: Robert Kirkman
Illustrator: Tony Moore, Charlie Adlard
Photo from Image Comics
The Walking Dead's phenomenal TV success (its premiere garnered 5.3 million viewers) should tell you that this isn't just another story in a saturated zombie subgenre. 
The post-apocalyptic horror comic immerses readers in the lives of ex-sheriff Rick Grimes and his group of nomadic survivors. The plot follows their journey as they navigate a treacherous landscape, preyed on by the undead and the dark side of human nature.
Robert Kirkman's laudable world-building and his dive deep into the characters' journey will move you in more ways than one.  
Swamp Thing
Writer: Alan Moore
Illustrators: John Totleben, Rick Veitch, Stephen Bissette, etc.
Photo from DC Comics
As DC's one of the most beloved horror comics, Swamp Thing is a top favorite among modern horror fans. It follows the haunting tale of Alec Holland, a scientist who is transformed into the supernatural "swamp thing" after a tragic accident. As the protector of the swamp, Swamp Thing grapples with his dual nature while battling otherworldly creatures and sinister forces. 
Swap Thing's must-read element lies in its masterful storytelling. It explores the idea of identity and humanity through the character's connection to the swamp, showing a human's deep connection with nature.
From Hell
Writer: Alan Moore
Illustrator: Eddie Campbell
Photo from IDW Publishing
Critically acclaimed as one of the best horror comics of all time, you simply can't leave out another one of Alan Moore's masterpieces. 
From Hell is a haunting look at the infamous Jack the Ripper murders in 19th-century London. The graphic novel delves into the mind of the killer while dissecting the social and political backdrop of the time. 
With its meticulously researched historical detail and captivating narrative, From Hell immerses readers in a world of mystery and horror. If you're a true crime buff, this is perfect for you!
Something is Killing the Children
Writer: James Tynion IV
Illustrator: Werther Dell' Edera
Photo from Boom Studios
What's more heart-wrenchingly terrifying than zombies and swamp monsters? Missing children. Something is Killing the Children tells the gripping tale of Erica Slaughter, a mysterious monster hunter investigating a series of horrifying child disappearances in Archer's Peak. 
The comic's unique blend of horror, mystery, and emotional depth sets it apart. Exceptional artwork captures the darkness and tension, while the complex characters, especially Erica herself, add layers of intrigue. 
With its atmospheric storytelling and compelling plot, it's a great choice for those seeking an eerie and thought-provoking comic experience. A series adaptation of this hit comic book will soon air on Netflix.
Spine-tingling Adventures Await
Ready for the thrill? Caution: this is not for the faint-hearted. We have the best recommendations to help you get started on what to read and maybe even start your collection soon. 
Here's a price guide for comic books so you can plan on what to purchase and how much you're willing to spend ahead. Happy reading!
About the Author
Latest Posts
Stuart Conover is a father, husband, published author, blogger, geek, entrepreneur, horror fanatic, and runs a few websites including Horror Tree!