Trembling With Fear Year 3 Has Been Released!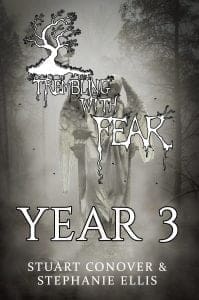 Ladies and gentlemen. After long last, the third installment of Trembling With Fear has been released! 2019 was a BIG year for original fiction and we're actually splitting our secondary book into two. So while there will be a More Tales From The Tree Volume 2, there is also a stand-alone dedicated to just our serials. There has been a lot of heavy lifting from Stephanie Ellis on helping with all three of these books from initial vetting through formatting and Catherine Kenwell on our secondary books as well.
Year 3 comes out… YESTERDAY!
You can order it from Amazon right here!
Yes, folks, I'm a little behind. I try not to use the Pandemic as a scapegoat as I know that so many people have more time on their hands at the moment but my work and trying to help with the kids means I've been scraping by to get Horror Tree updated. So, most of the delays on these anthologies are on me.
At this time, digital copies of 'More Tales Volume 2 and 'Serial Killers Volume 1' are both available for pre-order and we'll be having the physical copies of each going live closer to each of the release dates. We're spacing them out by a week each this year just to see what happens on Amazon by doing that.
Trembling With Fear: Year Three features all the drabbles and short flash stories published online at Trembling With Fear, HorrorTree.com's weekly zine during 2019. All works of speculative fiction, many darkly so, they are the product of writers both new and seasoned and from all corners of the globe. This is a book to dip in and out of, perfect for those moments when you just want a dark 'bite' of something. Read, enjoy and then check out Trembling With Fear online for the latest stories.HorrorTree.com is the free online resource for writers in the field of speculative fiction. As well as Trembling With Fear, you will find the latest industry submission calls, articles, and interviews. It is not to be missed!
Please order a copy on Amazon today!
About the Author
Latest Posts
Stuart Conover is a father, husband, published author, blogger, geek, entrepreneur, horror fanatic, and runs a few websites including Horror Tree!