Taking Submissions: Lucky Stars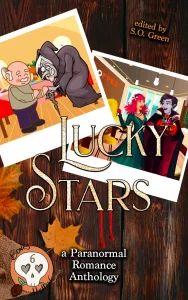 Deadline: October 1st, 2022
Payment: Royalties
Theme: Reasons to count your lucky stars!
Title: Lucky Stars
Opens: July 1st, 2022
Submission Deadline: October 1st, 2022, 11:59 EST or Until Full
Theme: Life can be full of ups and downs for the folks of Bones Hollow, but it's always good to give thanks. When the spells go just right, when the blood is hot, when the night is clear and the moon is full, there's a lot to be thankful for.
And when you're in love, even more so.
Thanksgiving is a time for reflecting on the things that make you grateful, whether it's a long-lasting relationship, an opportunity for new love, a harmonious house or the chaos of creation. Life, love and magic are all gifts. What do the denizens of Bones Hollow have to be thankful for this year?
A Bones Hollow anthology celebrates love for all kinds, shapes, sizes, and orientations based in the fictional Vermont town where the supernatural and Hallmark collide.
Heat Level: G; Sweet
Word Count: 2,000-8,000 words, excluding title
Author Eligibility: Open to all
Reprints: Not allowed
Simultaneous Submissions: Not allowed
Multiple Submissions: Maximum of 2 (two) allowed
Publication: Expected to release Thanksgiving 2022
Author Compensation: One digital copy; royalty split among authors
How to Submit: See www.ParamourInk.com for further information
Send your story and up to a 100-word author bio with 2 (two) links as a Word doc attachment to: [email protected]
Please include the Anthology Title, Story Title, and Author name in your email subject line, with your document file name as: Author Name – Story Title.
Via: Black Ink Fiction.
About the Author
Latest Posts
Stuart Conover is a father, husband, published author, blogger, geek, entrepreneur, horror fanatic, and runs a few websites including Horror Tree!