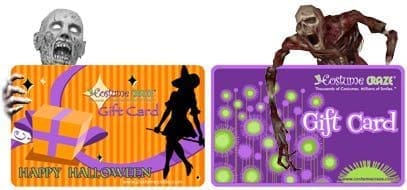 Contest: Zombie Writing Contest! Win a $20.00 Gift Card!
OK! Hold your horses. 2 posts today, one with an actual submission and one for this contest. I figure the majority of the writers who come here probably have something short laying around they could re-work to enter this contest. If you win, hey it's an easy $10 or $20 from taking one of your super rough drafts or jotted down ideas and fine tuning it for this.
You won't get anything in print from winning aside from it being posted on their website. It doesn't look as if they keep any rights to it so you can do what you want with it after the fact.
Deadline: Sept. 29, 2011
Costume Craze is launching a special Blog contest, to help you get ready for Halloween! The grand prize is a $20.00 gift card, and we'll also be giving away $10.00 gift cards to runner-up winners.
Here's how to enter:
1. First, read our blog post Zombies Invade Costume Craze!
2. Then, write an original short story describing a zombie attack, and submit it to [email protected]. Keep it short, between 200 – 1,000 words. Be sure to include your first name and city where you live.
The deadline for submitting your story is Sept. 29, 2011.
All entries MUST include the following:
1. Include at least one type of zombie as described in the blog post.
2. Describe the location of your zombie battle.
3. Describe what weapon(s) you use in battle.
4. Include Costume Craze in some way.
*Please create an original story for this contest. If you submit a story previously published elsewhere, our zombie judges will KNOW and you will be disqualified, and possibly eaten.
Our judges will award 5 winners for the best zombie story submissions, based on these following categories:
1. Best Overall Story – Grand Prize $20.00 Gift Card
2. Best Humor – $10.00 Gift Card
3. Most Creative – $10.00 Gift Card
4. Best Dialogue – $10.00 Gift Card
5. Best Inclusion of Costume Craze – $10.00 Gift Card
We'll publish the results here (we won't include your last name or any private information). No purchase necessary to enter. One entry per person. By entering this contest, you grant Costume Craze full permission to publish your story.
All entries must be submitted by Sept. 29, 2011 (Mountain Time).
Email your story to: [email protected]