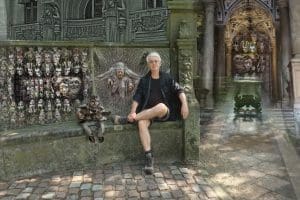 Tais Teng, A Modern Renaissance Man
By Angelique Fawns
Tais Teng is a Dutch writer and prolific creator in several languages and mediums. Not only does he write fantasy fiction, science fiction, hardboiled detective mysteries, and children's books; but he also illustrates, sculpts, paints, and works as a writing coach. Born Thijs van Ebbenhorst Tengbergen, he found this name a tad long to put on the cover of books (and for English readers to pronounce) so he chose Tais Teng as a pen name.  With more than 100 published books and 200 plus short stories, I was fascinated to learn about the multi-faceted career of this talented (and comedic) creator. Spoiler alert. Did you know he created the Ziltpunk movement? Read on to learn more.
AF:  You wear a lot of hats in the creative world! Can you tell our readers how you make a living and what your favorite branch of income is?
TT: Well, yes, I wear a veritable Tower of Babel of hats. I am a writer, an illustrator, a writing coach, and a sculptor. Each uses a completely different part of my brain. 
Writing comes very close to lucid dreaming to me. If I start a sentence, the words arrive almost as a voice-over, telling me what to type next. Sometimes it switches into the fast-forward mode and I get whole paragraphs or even half a page. I have to type like mad then before all those words fade back into the racial unconsciousness. It feels exactly like a sugar cube dissolving in hot tea.
Almost all things I do are in deep concentration,  in hyperfocus. If someone enters the room, I probably won't notice. Even it is a burgler: as long as he doesn't take my keyboard, I just go on writing. (more…)