Disclosure:
Our reviews may contain affiliate links. If you purchase something through the links in this article we may receive a small commission or referral fee. This happens without any additional cost to you.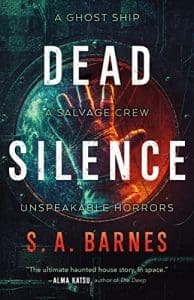 Title: Dead Silence
Author: S.A. Barnes
Genre: Science Fiction Horror
Publisher: Tor Nightfire
Release Date: February 8th, 2022
Synopsis: Titanic meets The Shining in this SF horror novel in which a woman and her crew board a decades-lost luxury cruiser and find the wreckage of a nightmare that hasn't yet ended.

Claire Kovalik is days away from being unemployed―made obsolete―when her beacon repair crew picks up a strange distress signal. With nothing to lose and no desire to return to Earth, Claire and her team decide to investigate.
What they find is shocking: the Aurora, a famous luxury spaceliner that vanished on its maiden tour of the solar system more than twenty years ago. A salvage claim like this could set Claire and her crew up for life. But a quick search of the ship reveals something isn't right.
Whispers in the dark. Flickers of movement. Messages scrawled in blood. Claire must fight to hold on to her sanity and find out what really happened on the Aurora before she and her crew meet the same ghastly fate.