Disclosure:
Our reviews may contain affiliate links. If you purchase something through the links in this article we may receive a small commission or referral fee. This happens without any additional cost to you.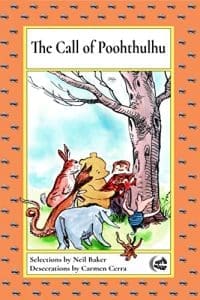 Title: The Call of Poohthulhu
Editor: Neil Baker
Publisher: April Moon Books
Genre: Horror/Humor
Release Date: May 31st, 2022
Synopsis: An imaginative amalgamation of two beloved literary genres, the early stories of Winnie-The-Pooh and the Mythos tales of H.P. Lovecraft! Ten amazing authors have created stories that take place in, or are inspired by, the 100 Acre Wood, and added a Lovecraftian twist to ruffle the feathers of an Owl, or shock the tail off a donkey!
Old Ones, New Ones and Dark Voids cause a bit of bother with our favourite stuffed friends, and the whole anthology is stuffed full to bursting with Very Dark Ideas and Perilously Sticky Expotitions.
Reader Beware!