Disclosure:
Our reviews may contain affiliate links. If you purchase something through the links in this article we may receive a small commission or referral fee. This happens without any additional cost to you.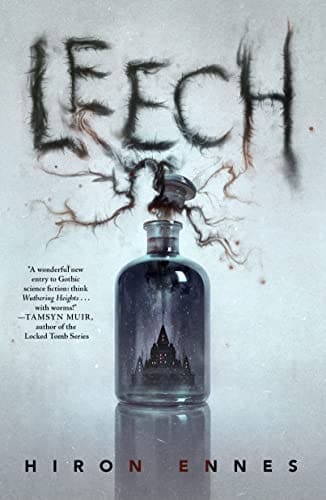 Title: Leech
Author: Hiron Ennes
Publisher:  Tor
Genre: Horror
Release Date: 27th, September, 2022
Synopsis: MEET THE CURE FOR THE HUMAN DISEASE
In an isolated chateau, as far north as north goes, the baron's doctor has died. The doctor's replacement has a mystery to solve: discovering how the Institute lost track of one of its many bodies.
For hundreds of years the Interprovincial Medical Institute has grown by taking root in young minds and shaping them into doctors, replacing every human practitioner of medicine. The Institute is here to help humanity, to cure and to cut, to cradle and protect the species from the apocalyptic horrors their ancestors unleashed.
In the frozen north, the Institute's body will discover a competitor for its rung at the top of the evolutionary ladder. A parasite is spreading through the baron's castle, already a dark pit of secrets, lies, violence, and fear. The two will make war on the battlefield of the body. Whichever wins, humanity will lose again.