Disclosure:
Our reviews may contain affiliate links. If you purchase something through the links in this article we may receive a small commission or referral fee. This happens without any additional cost to you.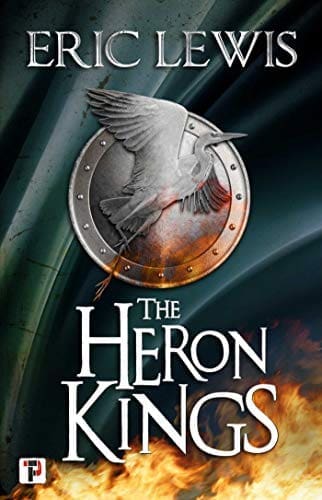 Title: The Heron Kings
Author: Eric Lewis
Genre: Fantasy
Publisher: Flame Tree Press
Release Date: 23rd April, 2020
Synopsis: After a warlord slaughters her patients, Sister Alessia quits the cloister and strikes out on her own to heal the victims of a brutal dynastic conflict. Her roaming forest camp unwittingly becomes the center of a vengeful peasant insurgency, raiding the forces of both sides to survive. Alessia struggles to temper their fury as well as tend wounds, consenting to ever greater violence to keep her new charges safe. When they uncover proof of a foreign conspiracy prolonging the bloodshed, Alessia risks the very lives she's saved to expose the truth and bring the war to an end.
'The Heron Kings' has us dive headfirst into a fantasy world at war. In it, two factions contest the rights to rulership in a kingdom divided, and instead of focusing on one side or the other, we get to see what happens to the commoners who have no stake in the game. The world that Eric Lewis gives us is rich and highly developed with characters who aren't 2D and really stand out.
Right as the tale begins, we get to see that nowhere in this world is safe, including a religious haven for those who have come to be healed. As we begin, we meet Alessia, a healer and nun who has lost her faith. She strikes out on her own and sees that the failed world she has lived in is even worse than she had known. Gathering a band of survivors together, she is ultimately put in charge of their fates as well as the fates of countless others. Her primary frenemy is Ulnoth, a man set on revenge, having lost his family to the war. Neither of these characters is necessarily that likable, but their motives are easy to relate to, and the tale, on the whole, is compelling.
We're also delivered complex characters on the opposite side as we meet the brutal General Taurix, who is leading the charge for one of the kingdoms, and a spymistress Vivian. Unfortunately, the central two leaders of the conflict aren't fleshed out that well though the intrigue of the war overshadows everything going on, and there are mysteries within mysteries as to what actually kicked off this brutal conflict.
I should stress, this is brutal as the novel is full of gore and situations that won't be for the squeamish. Though I will add that none of it was shoehorned in, and all was needed to properly set the tone of living through war.
Overall, I enjoyed this new world that Lewis created and felt that things wrapped up nicely. There is room to expand the story though this could just as easily be a completely self-contained work. With how brutal some of the scenes are, it won't be for everyone, especially those who are looking for happy endings. As war tends to be, even when things end, they are messy and bloodthirsty things that have a negative impact on everyone and everything they come in contact with.
I give this collection 

out of 5.