Taking Submissions: Use Enough Gun : Legends of the Monster Hunter 3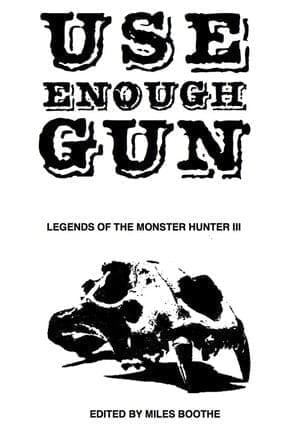 Deadline: May 31st 2012
Payment: $15.00 (US Dollars) & PDF copy of the anthology, payable upon publication
Weathered hands pull a blade across an oiled stone. The honed edge glints in the firelight, but the job is not yet finished.
Two volumes sit upon the mantle, covers worn, the odd stain appearing as a dark droplet upon random pages. The stories inside each are legend, but not all of the stories have been told.
The final stories are darker, their secrets hidden deeper than the others. The final stories are those that are saved for last, for when the fire burns low and only the hunters are still awake to share them.
The final stories are about what happens when the hunt goes wrong.
Sometimes, a mistake can lead to the hunter missing their quarry. Sometimes, an ill wrought plan can get the hunter injured, or even killed. And sometimes, when the hunter grossly underestimates the prey, worse can happen. Much worse.
Make your stories cautionary tales that highlight the dangers of monster hunting. Tell us of mistakes that can occur when planning is replaced by reckless action, or when weapons malfunction, or when information is held back from those that need it.
Give us a story about what happens when a hunter is simply overmatched by a creature that they never really stood a chance against.
Or, tell us of the worst cases, the stories that send chills through the hunter's bones; tell us what happens when they are turned into the very things that they are sworn to destroy.
Use Enough Gunwill conclude the Legends of the Monster Hunters trilogy of western inspired covers, so we will be looking for the absolute very best stories.
Use Enough Gun is an anthology about monster hunters and their exploits. Send us
your most action packed, most harrowing hunts. Let Leather, Denim & Silver (Vol. I) and The
Trigger Reflex (Vol. 2) be yourguides.
And, for this volume, you may include hunters that have been turned into monsters. The hunters must have either been human or are at least still partially human. Or, of course, the hunter may be fully human as in the two previous volumes.
Just make sure that you include where the hunt has gone wrong.
Any and all monsters are on the table, and the hunters may range from the classic, dark, gun-wielding stranger to a small child who traps demons with her mind.
The story may end in triumph, or it may end in tragedy; the more creative the twist, the better.
*****
PAYMENT: $15.00 (US Dollars) & PDF copy of the anthology, payable upon publication
DEADLINE: May 31, 2012
TENTATIVE PUBLICATION DATE: JULY 2012
Edited by Miles Boothe
*****
Please observe the following guidelines:
*Submit as a Word or RTF doc through our online submissions manager link.
*In the top left corner of the first page, please include your name, pen name if applicable, the word count, and your email address. There is no need to number your pages or to include headers with title and page number.
*Please follow the rules and formatting described in our writers guidelines
*Please do not use hard returns.
*Stories may range from 3,000 to 8,000 words.
*No sim-subs, no multi-subs, and no reprints please.
*Dark fiction, horror, and sci-fi will be considered. No fantasy or poetry please.
*All work must be original and previously unpublished.
Please direct any questions or comments to Miles at [email protected]
And, don't be shy – I love to talk about ideas, and am happy to let you know if I think a plot or a character will work, etc.
Happy Hunting.
[via: Pill Hill Press.]
About the Author
Latest Posts
Stuart Conover is a father, husband, published author, blogger, geek, entrepreneur, horror fanatic, and runs a few websites including Horror Tree!