Taking Submissions: The Undead That Saved Christmas Vol. 3: Monster Bash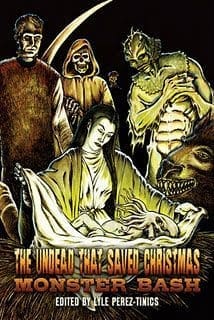 The Undead That Saved Christmas Vol. 3
MONSTER BASH
Edited and Compiled by Lyle Perez-Tinics
Deadline: June 1, 2012 (or until full)
Target release date: September 20, 2012
The Undead That Saved Christmas Vol. 3 Monster Bash is a charity anthology of short stories, comics and poems. Net proceeds from the book will help provide Christmas presents for foster kids at Hugs Foster Family Agency (http://www.HugsFFA.org/)
This is it, the last edition of The Undead That Saved Christmas anthologies. I am seeking Christmas/monster themed short stories ranging from 2,500 – 7,500 words. The stories should have strong holiday themes and must contain some sort of monster. No longer is this anthology limited to zombies or vampires. Think of werewolves that pull Santa's sleigh or the elves at the North Pole being replaced by demons. Please be creative and as gruesome as you'd like. Even though this book is to help children, its target readers are adults.
Original stories only, please no reprints.
For comic submissions please have your contact information in the body of the email. The comic script must be illustrated by your artist (or yourself) prior to submitting. Comics can be any length, but must contain Christmas and monster. All images must be 300DPI and at least 6×9. I will adjust size as needed. Keep all text at least .50 away from top, bottom and outside margins and .75 away from the inside margin. This makes it easier when I have to format the book.
For poem submission, please have all of your contact information at the top of the page. Poems must be about monsters during Christmas time. If you would like to revamp a Christmas carol please do so. Try to keep poems under 250 words.
This anthology is for charity. There will be no payments and no contributor copies. However, discounted copies at 25% retail will be available to the contributors.
Send submissions to [email protected] with "Monsters Submission (story title and author name)" in subject line. Please attach a word document file containing your story. Please use Times New Roman, size 10 font and please DO NOT double space or use headers or page counts. Page one of the file must contain your contact information (name, mailing address, E-mail and word count) If any of these items are missing from your document, I will reject right away. If this information is there, it makes it easier for me to contact you.
Everyone is welcomed to submit a story, comic, or poem. If you have any questions or would like more information please feel free to contact me at [email protected]
[via: Rainstorm Press.]
About the Author
Latest Posts
Stuart Conover is a father, husband, published author, blogger, geek, entrepreneur, horror fanatic, and runs a few websites including Horror Tree!