Taking Submissions: Triangulation: Dark Skies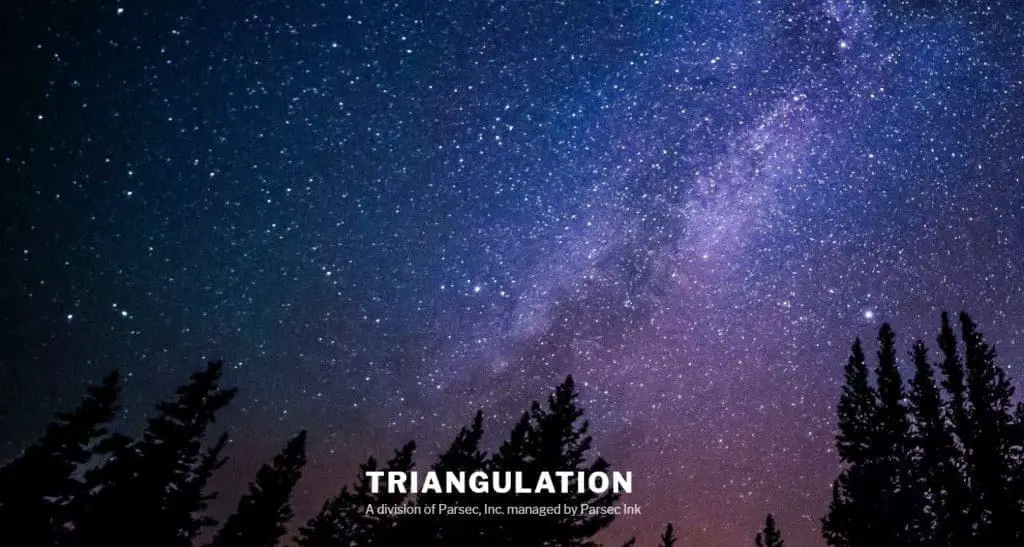 Deadline: February 28th, 2019
Payment: 4 cents a word and a contributor's copy
Triangulation is open for submissions.. We are Parsec Ink's speculative fiction annual, now in our 15th year. We're looking for outstanding fantasy, science fiction, weird fiction, and speculative horror–from new and established writers. Take the theme and run with it. Tell us a story we won't forget.
Theme: Triangulation: Dark Skies will be a celebration of the dark. This year, we are joining forces with the International Dark-Sky Associationto raise awareness of the dangers of light pollution—to human health, to animals and plants in the nighttime ecosystem, and to the future of astronomical research on our planet. We'd like to see proactive characters experiencing firsthand the dangers and consequences of a world without darkness, but even more than that, we want stories celebrating our place in the universe, and our ability, as sentient beings, to see into the depths of space. Give us past, present, and future accounts. Cautionary tales. Secondary worlds and altered timelines. The effects of light pollution are many and varied—feel free to explore any aspects, from neurobiological studies, to life in an alien star system, to legends out of time.
How To Submit: Electronic submissions make our lives easier. Please upload your story via Submittable. If this is your first time using Submittable, you will need to create an account with them. Don't worry: it's free.
Submissions Open: December 1, 2018
Submissions Close: February 28, 2019
Word Count: We consider fiction up to 5,000 words, but the sweet spot is 3,000. There is no minimum word count.
Genre: We accept science fiction, fantasy, and horror–and enjoy intelligent blends of the three. Stories without a speculative element will not be considered.
Compensation: Pay is semi-pro: 4 cents a word. Authors will receive an e-book and one print copy of the anthology, plus wholesale pricing for additional print copies (typically 50% off the cover price).
Rights: We purchase North American serial rights, audio and electronic rights for the downloadable version(s). All subsidiary rights released upon publication.
Submissions: We are a meritocracy. New authors are as welcome as those with a laundry list of accomplishments. But it's going to be the story that wins us over. Grab us by the lapels, drag us onto that plane, take us for the ride of our lives… but get us back on the ground safely and home in time for dinner.
We do not accept reprints, multiple submissions, or simultaneous submissions. If we reject a story before the end of the reading period, feel free to send another.
We love creative interpretations of our themes, but we do require the stories to be a solid fit.
We run mature content only if we like the story and find the mature content to be integral to it.
We do not accept fanfic, even if it's based in a fictional universe that has passed into the public domain.
Manuscript Format: Please use industry standard manuscript format.We're not testing you or trying to make you jump through hoops, but we do want a manuscript that is easy for us to read.
We accept manuscripts in the following formats:
.doc or .docx (MS Word)
.rtf (Rich Text Format — generic document format that most word processors can create)
Editorial Process: We aim to read submissions as they are received. If a story doesn't work for us, we reject it. If we think the story has great potential but isn't quite there yet, we request a rewrite. The ones we love the most, we hold on to for further consideration, but we won't keep you guessing: you'll get an email. Next, the stories fight it out amongst themselves until we have our final lineup. At which time, final acceptances are sent out. It's sort of like Enter the Dragon, but without the nunchucks. When a story is accepted, the changes we suggest will typically be minor and/or cosmetic.
Response: Final decisions are made by March 31st.
Eligibility: All writers, including those who are known or related to the editorial staff, can submit to Triangulation. That doesn't mean they'll necessarily get in, but we are happy to consider their work.
Via: Parsec Ink.
About the Author
Latest Posts
Stuart Conover is a father, husband, published author, blogger, geek, entrepreneur, horror fanatic, and runs a few websites including Horror Tree!