Taking Submissions: Little Stories From The Smallest Room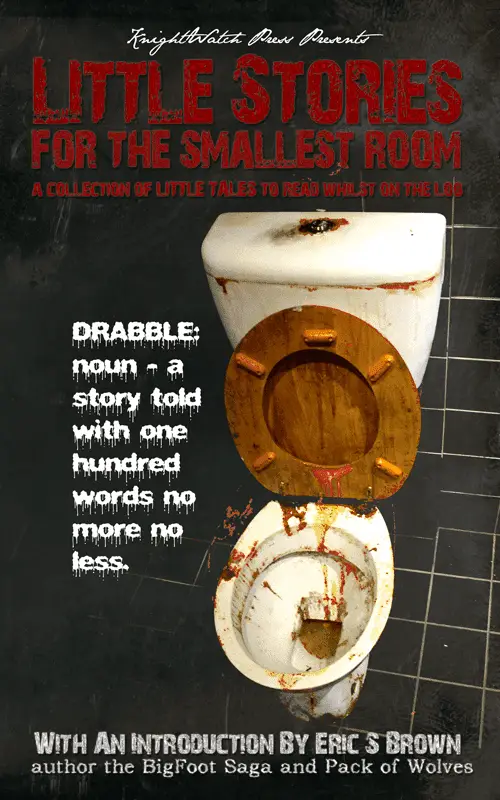 Deadline: February 1st 2012
Payment: Exposure only
Working Title: "Tales For The Smallest Room"
Publisher: KnightWatch Press
Edited by: David Naughton-Shires
Release Date: TBA
NOTE: Submitting a piece to this project will be considered an agreement to the payment and usage detail mentioned below no contracts will be sent for this project.
WHAT I'M LOOKING FOR:
(DRABBLE: noun – a story told with one hundred words no more no less. For this market the title and your name are not part of the 100 words )
– Drabble stories of exactly 100 words
– any genre that falls within the KnightWatch remit (if not sure please feel free to ask on FB or via email)
– Multiple submissions are allowed
LET YOUR IMAGINATIONS GO CRAZY!!! THINK SMALL!!!!
QUESTIONS? CONTACT:
– David Naughton-Shires at [email protected]
*Thanks SO much and feel free to share this with ANY authors you feel would be interested in contributing 🙂
What rights do we want?
First publishing rights, (we will review pre published Drabbles on an individual basis but stories that have not been previously printed will get first place) the right to use the drabble for as long as there is demand for the book, the right to edit each Drabble for any missed grammatical errors, and the right to use parts of the book and the author's name for promotion. You will keep all other rights and can republish the story once the book has been in print for six months.
What you get:
This is a 'for the fun of it' submission only.
How your stories should be sent:
– Type in WORD format, if possible. Single spaced
– YOU retain rights to your Drabble
– Save file as: SMALLEST_YourTitle
– Title, Author's Name, and Author's Email MUST be on the document.
– The Drabbles should be edited to the best of your ability but they will be looked over for any missed grammatical errors.
Where to send it:
– Editor at: [email protected]@knightwatchpress.info
When to send it by:
Deadline for submission is Feb 1st (or, until full) We will take all entries and choose the best of the bunch for publication!
Submissions are open to EVERYONE so take this opportunity to try for the first time or write for the hundredth time!!
If you have ANY questions at all, Email [email protected]
If you submitted to the cancelled Drabble calender I would ask you to resubmit your piece to this book at the new email address of [email protected]
[via: KnightWatch Press.]
About the Author
Latest Posts
Stuart Conover is a father, husband, published author, blogger, geek, entrepreneur, horror fanatic, and runs a few websites including Horror Tree!