Taking Submissions: The "Other" Horsemen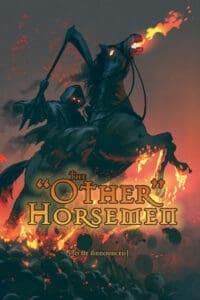 Deadline: May 30th, 2023
Payment: 2 contributors copies
Theme: Behold, the four horsemen of the apocalypse and … the other guy.
The Prompt:
Behold, the four horsemen of the apocalypse and … the other guy.
The cataclysm is said to be heralded by a barrage of hoofbeats, each fearsome rider wielding a mighty weapon. The horsemen are so ubiquitous that they have been depicted in art, film, television, video games, comic books, literature, and music.
The conqueror, astride a white horse, carries a bow with the string pulled taut. The warlord, riding a roan as red as blood, wears a sword upon his hip. On the black horse sits a rider with hollowed cheeks caused by famine, a pair of scales balanced upon his palm. Finally, on a pale horse, rides death himself, hefting his archetypal scythe.
But who didn't make the cut? Surely, there were other horsemen that auditioned but missed the mark. Perhaps their horse was just a pony or they carried the common cold instead of pestilence. Maybe their audition ended in tears because the other horsemen were too mean. The Other Horsemen is a collection of stories by big names and talented newcomers answering just that.
Deadline
May 30th 2023 at Midnight EST
Publication
By End of 2023
Award
2 complimentary paper copies. (US only)
Access to buy author copies at a discounted rate.
We retain first publication rights for the first 90 days of publication. After that feel free to sell and republish your entry as you wish. All entries will solely belong to you.
Wide distribution.
By sending in a submission, you are agreeing to the rights above and will receive confirmation to further information regarding contest.
Contest Guidelines
Here's what we need from you to include:
12 pt font
Calibri or Times New Roman
Double-spaced throughout (without extra spaces between paragraphs)
Indented for new paragraphs
1-inch margin all around
Include a title page with pen name & author name
Title of work
Header with pen name, title, and page number in top right-hand corner.
2,500 – 5,000 words
You must be 18+ to participate or we must receive permission from your parents or guardian.
Important Notes:
If you do not follow the submission and formatting guidelines you will be rejected without feedback and should resubmit. We will not review submissions that fail to follow instructions nor answer the questions we need.
You must have your first manuscript completed before submitting. You are only sending us the first 10K words, but it is important to know we can hit the ground running.
This writing should be fully edited. We shouldn't see simply grammatical errors and misspelled words that are being flagged with Word upon opening. Please submit polished and well edited writing.
Do not submit more or less of the word count range or this will result in a automatic rejection.
Only US authors are eligible for complimentary copies.
VIa: 4 Horsemen Publications.
About the Author
Latest Posts
Stuart Conover is a father, husband, published author, blogger, geek, entrepreneur, horror fanatic, and runs a few websites including Horror Tree!