Taking Submissions: The Monsters Next Door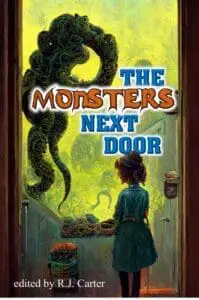 Deadline: June 30th, 2023
Payment: $20 and a contributors copy
Theme: Monsters that live next door!
The reading period is now open for our next anthology, THE MONSTERS NEXT DOOR.
Theme: Exactly what the title indicates. The setting is real world, suburbia, inner city, farm country — with the exception that there are monsters next door. We are open to horror, science fiction, comedy, tragedy, whatever your story needs to get it told, so long as it fits the theme of the anthology. Did Dracula move into the apartment next to yours? Does Cthulhu have a summer house in the country? Are there zombies on the cul-de-sac now?
Word length: 2,000 min / 10,000 max
Rights: First serial print and e-book
Pay: Upon publication, $20 plus author copy. Authors can order additional copies at base printing cost.
Deadline: June 30, 2023
Date of Publication: Sept 2023
Submissions should be sent in MS-Word format to [email protected]. If you use the William Shunn Manuscript format, you will have a much better chance of getting read.
Via: Critical Blast.
About the Author
Latest Posts
Stuart Conover is a father, husband, published author, blogger, geek, entrepreneur, horror fanatic, and runs a few websites including Horror Tree!