Taking Submissions: Tales…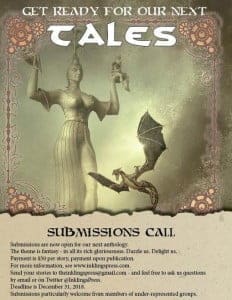 Deadline: December 31st, 2018
Payment: $50usd
There's a stirring at Inklings Tower. Something is afoot.
The time has come for the Inklings crew to throw the doors open wide again in search of submissions for the next anthology.
And it's a return to our beginnings this time. The first anthology released by Inklings Press was Tales From The Tavern – a short collection of five fantasy stories by some of the early, happy crew that thought it was time to have a go. You can still read that – it's collected in the Tales From The Tower anthology that rounds up the first year of Inklings Press.
Fantasy was where we began – and fantasy is where our next anthology will take us.
We want you to dare to dream. We want you to imagine fantasy worlds that will surprise, that will excite.
It's also a new beginning in a different way. We're trying out a new payment structure. Previously we have paid a share of royalties for each book – but we're going to test out something new this time.
For the next anthology, payment is $50 per story, with payment made upon publication.
Why are we doing this? Well, our ambition is to aim towards becoming SFWA eligible in time – and a flat payment works more easily for that than the royalty structure. We've got a distance to go, but it's a first step, and all great journeys need a first step.
We would also love to see submissions from members of under-represented groups – and fantasy worlds that might go beyond the more familiar. We'd love to see what you've got.
Send your stories to
and feel free to ask us questions by email or on Twitter @InklingsPress.
The deadline is December 31, 2018. Further details – the title of the new anthology and cover reveal – will come closer to publication, which is anticipated in Q1 of 2019. The anthology will appear both as an ebook and a paperback. Paperback copies will also be made available to authors at cost price for those wishing extra to sell at conventions etc.
We're not sticklers – but prefer submissions in something close to standard manuscript format. Don't worry if it's not exactly SHUNN, as long as it's clear.
We invite stories around the 5000-word range, though are open to a little longer or shorter. That would be our sweet spot – but we wouldn't want a story padded out or hacked back to artificially meet the count. We do want a short story, though, not flash fiction or a novella.
For graphic content, probably best to think in terms of a PG-13 audience. We don't tend towards erotica and rarely have characters swearing like sailors though an occasional swear word may be appropriate. We're leaning towards fantasy in terms of myth and magic, swords and sorcery, but not wanting to define it too tightly – not least because we are encouraging submissions from different cultural backgrounds and don't want a label to discourage that. That said, urban fantasy might not be the best of fits – though the right tale might hit the mark. As ever, the best guide to the kind of stories we like remains the stories we've previously published.
We are seeking first publication rights, and will retain exclusivity for a period of one year. You retain all other rights.
Thank you for listening – and we look forward to your submissions!
Via: Inklings Press.
About the Author
Latest Posts
Stuart Conover is a father, husband, published author, blogger, geek, entrepreneur, horror fanatic, and runs a few websites including Horror Tree!