Taking Submissions: Tales of the Black Arts, a Swords & Sorcery anthology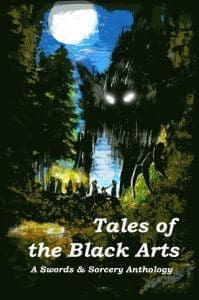 Deadline: October 31st 2013
Payment: $25, plus one paperback contributor's copy.
We are now open to submissions for Tales of the Black Arts, a swords & sorcery anthology, for POD paperback and eBook publication. We are looking for dark fantastic tales in the tradition of Moorcock's Elric stories, Wagner's Kane tales, or the Morlock Ambrosius stories by James Enge.
As you might expect from the title, magic must play a central role in the story, not just be in the background.
Cover art by Luke Spooner, www.carrionhouse.com.
Word Count: 2,000 to 15,000 words.
Payment: $25, plus one paperback contributor's copy.
Rights: we purchase First Electronic and First Print Rights, with a 6 month exclusivity period. Please remember that you can only sell your various "First" rights once, and that you will only be able to market your accepted story later as a reprint, once we have published it, which may limit where you can submit it to in the future, and how much you may be paid for it. Only you can make this business decision for yourself.
Deadline: October 31st, 2013. Expected publication in January 2014.
Submit the full story to us as a doc or rtf file to [email protected], with "Tales of the Black Arts" in the subject line. Include a little information about yourself as well.
Multiple submissions: Ok
Simultaneous submissions: Ok, just let us know.
Reprints: No reprints, please.
Via: Hazardous Press.
About the Author
Latest Posts
Stuart Conover is a father, husband, published author, blogger, geek, entrepreneur, horror fanatic, and runs a few websites including Horror Tree!