Taking Submissions: Sword & Sonnet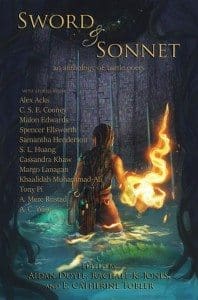 Deadline: March 1st, 2018
Payment: 6 cents per word
Stories featuring a woman or non-binary battle poet as a main character.
Word Count: Up to 5000 words
Payment: US 6c per word
Originals only.  No reprints.
No multiple submissions.  No simultaneous submissions.
Standard Manuscript Format. Doc, Docx or RTF.
The Sword & Sonnet Kickstarter successfully funded and a wonderful group of writers — Alex Acks, C. S. E. Cooney, Malon Edwards, Spencer Ellsworth, Samantha Henderson, S. L. Huang, Cassandra Khaw, Margo Lanagan, Khaalidah Muhammad-Ali, Tony Pi, A. Merc Rustad and A. C. Wise — have agreed to write for us. We'll be holding an open submission period in February 2018 and actively encourage writers from all backgrounds to send us their stories.
What kind of stories are you looking for?
Stories featuring a woman or non-binary battle poet as a main character. Although we envision the bulk of the stories will be fantasy, we're also open to science fiction or horror. We're looking for lyrical Shimmery stories, epic fantasy tales, and gritty poetpunk. Stories could feature secondary, historical or contemporary settings. Although they don't feature battle poets (and we're not looking for carbon copies) here are some stories which give some examples of some of the flavors we're looking for:
What do you mean by battle poet?
A poet who fights. We're flexible on the definition.
Does my story have to have lines of actual poetry in it?
No. We're looking for stories, not poems.
No. Your story can have some lines of poetry in it, but it doesn't have to. We want stories, not poems.
Are you accepting reprints?
No. Original stories only. (Or a translation where the story hasn't been published in English before).
What rights are you buying?
First worldwide print and electronic rights in English, with an exclusivity period of 6 months. The right to keep the story in print in the anthology. This is what our contract template looks like.
US 6c a word + contributor copy. Payment via PayPal or TransferWise.
What length of story are you looking for?
Up to 5000 words. Between 2000-5000 is ideal. Flash fiction will be a harder sell.
Something approaching standard manuscript format please. http://www.shunn.net/format/story.html Doc, docx or rtf. (No PDF).
Please only submit one story at a time. If you get a response back before the submission window closes, you're welcome to submit another story.
Please don't. (Don't send the story to another market at the same time you send it to us).
You'll have a response (perhaps a hold notice) before the end of March.
Do you actually have any space left in your anthology for open submissions?
Yes. We have a wonderful group of writers who have agreed to write us stories, but we wanted to leave room for the open submission period too! We don't know exactly how many stories (that will depend on the word count), but we'll be looking to take around 8-10 stories from the open submission period.
When is the anthology being published?
The second half of 2018.
If the story is rejected, can I still submit it to Shimmer or PodCastle?
Yes (assuming it meets Shimmer and PodCastle's guidelines).
Aidan Doyle is an Australian writer and computer programmer. His short stories have been published in places such as Lightspeed, Strange Horizons, Fantasy, Nature and Fireside. He has been shortlisted for Australia's Aurealis and Ditmar Awards and is an Associate Editor at PodCastle.
Rachael K. Jones is the former editor of PodCastle and critically-acclaimed author of dozens of short stories. She is a World Fantasy nominee, a Tiptree Award honoree and a winner of Writers of the Future.
E. Catherine Tobler is the senior editor at Shimmer Magazine. Her fiction has appeared in Lightspeed, Clarkesworld, and on the Theodore Sturgeon Memorial Award ballot.
Via: Sword & Sonnet.
About the Author
Latest Posts
Stuart Conover is a father, husband, published author, blogger, geek, entrepreneur, horror fanatic, and runs a few websites including Horror Tree!