Taking Submissions: Strangely Funny II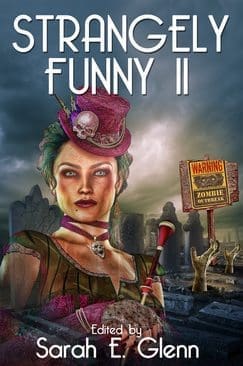 Deadline: May 1st, 2014
Payment: free trade paperback copy of the book, plus a $5 advance on royalties.
An anthology of humorous paranormal/supernatural stories. All stories must contain paranormal or supernatural elements (ghosts, witchcraft, vampires, etc.) and be funny. Think Addams Family, Zombieland, or Love at First Bite. These stories should not contain gratuitous violence, gratuitous sex, or excessive foul language.
For a better idea of what we're looking for, our first Strangely Funny collection is available here.
We're seeking stories that are 2000 – 6000 words in length. We will also accept black and white artwork if submitted in electronic format. Query about reprints. We will accept multiple submissions, but not simultaneous submissions. Open submission period: February 10 – May 1st, 2014.
All contributors will receive a free trade paperback copy of the book, plus a $5 advance on royalties. Contributors will also be able to purchase more print copies at a 50% discount on the cover price. We're seeking first world rights in English to publish in print and electronic format for 12 months, beginning on the date of publication. Please see our Guidelines and Payment page for further information on the rights we ask for and the compensation we offer.
Publisher's note: Mystery and Horror is a market that welcomes LBGTQ, multiethnic,multinational, nontraditional, and unusual fiction. We are concerned with well-written stories involving well-developed characters.
About the Author
Latest Posts
Stuart Conover is a father, husband, published author, blogger, geek, entrepreneur, horror fanatic, and runs a few websites including Horror Tree!