Taking Submissions: Strange Weeds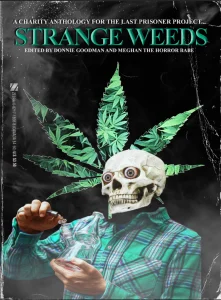 Deadline: April 20th 2022
Payment: 10$ honorarium and a paperback contributor copy
Theme: Weed-centered horror stories of any sub-genre
Note: Reprints Welcome
Note: I apologize, I just was linked this. Hopefully you've got a reprint to submit or can write fast!
An estimated 40,000 people are currently incarcerated for non-violent, marijuana related offenses in the United States.  As many states begin to roll out decriminalization acts, medical licenses, and recreational stores, it is more important then ever that awareness is raised for folks that have been arrested, charged, or convicted for something that is widely no longer considered a crime in many parts of the country.
With that being said, the submission period for the weed centered charity anthology, STRANGE WEEDS, is now OPEN. For this project, 100% of the proceeds will go to The Last Prisoner.
We're looking for weed-centered horror stories of any sub-genre.  How you interpret that, is honestly up to you. Any idea is welcomed as long as it is not demonizing the substance or its users.  Stories do not need an overt political or social message, but they won't be turned away, either.  Please be careful with how you write "stoners." If you've ever been in a dispensary before, you'll find the plant finds a home with every culture, age group, and background.  We imagine this book will find its audience, so write something 420 friendly.
Submission Details:
Please attach a .doc, 12 point font, times new roman, double spaced to an email and send it to [email protected] with AUTHOR NAME_STORY TITLE in the subject line.
Word count:
1500 – 4200 words
Submission Window:
January 3rd 2022 – April 20th 2022
Reprints are fine, author will retain all rights to the work.
Payment:
10$ honorarium and a paperback contributor copy
Stories will be read between 4/20/22 and 7/1/22 with a goal for publication in late Q3 2022.
If you have any questions, feel free to send an email.  Otherwise, we look forward to reading your stories!
-Donnie and Meghan
Via: Donnie Goodman.
About the Author
Latest Posts
Stuart Conover is a father, husband, published author, blogger, geek, entrepreneur, horror fanatic, and runs a few websites including Horror Tree!