Taking Submissions: Strange Little Girls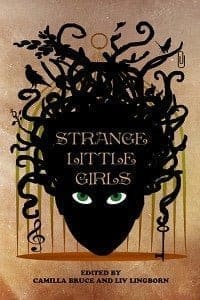 Deadline: July 15th, 2014
Payment: $120
The strange little girl is not like the other little girls. She might look like the other girls and act like the other girls, but be very strange at heart – or she might be just plain weird altogether. Sometimes she is a scary little girl, other times a dreamer, always treading the fine line between reality and imagination – or even madness… We want to meet new strange little girls, and read strong and original stories about them. Why is she strange? How is she strange? Who is she when she grows up? Does she end up like the madwoman in the attic, hidden away from the world – or is she an office clerk? A lawyer? A baker of poisoned goods?
Think Wednesday Adams, Merricat Blackwood, Alice, Drusilla, Carrie and Amy Pond, to name a few. Of course, your strange little girl might be nothing like them at all – she might not even be the protagonist of your story, but she has to be there, at the center, in all her strange little glory.
What we want: Originality is treasured, so is strong storytelling, clever plot and a polished and proof read manuscript.
Don't be afraid to experiment – we do like the strange.
What we do not want: Pointless gore or splatter horror, plotless adult content (sex is ok – but all in good taste) or poetry.
Submissions: We will accept submissions between May 15th and July 15th, e-mail submissions only.
Submissions should have a standard manuscript formatting and be attached as .doc, .rtf or .pdf.
A few words about you and your writerly career in the body of the e-mail would be nice.
We will respond to all submissions within 12 weeks.
Length: 2 000 – 8 000 words
Language: We will read submissions in English, Norwegian and Swedish
Rights: We buy First Worldwide English language rights, First Worldwide Swedish language rights and First Worldwide Norwegian language rights
Publishing details: Print and e-book
Publishing date: 2015
Payment: $120 flat fee. All payments are made through PayPal.
Copies: The author will receive two print copies and one e-book.
Multiple submissions: No
Simultaneous submissions: Yes.
Reprints: No
Send your submission to: [email protected]
Subject line: Submission, Strange Little Girls: name of your story.
Please name your file author's last name and story title. Example: meyer twilight.doc/rtf/pdf.
We're looking forward to your submissions.
Via: Belladonna Publishing.
About the Author
Latest Posts
Stuart Conover is a father, husband, published author, blogger, geek, entrepreneur, horror fanatic, and runs a few websites including Horror Tree!