Taking Submissions: #SPIRIT: A White Stag Anthology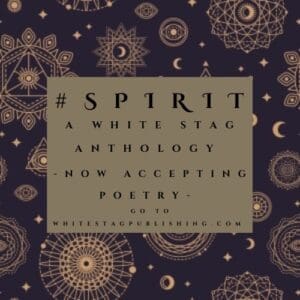 Deadline: December 26th, 2022
Payment: Contributors copy and $5 per page
Theme: Poetry involving the fifth element & highest point of the pentacle: Spirit. #Spirit embodies the aether / the quintessence.
White Stag Publishing is closing out the #ELEMENTSERIES with the fifth element & highest point of the pentacle: Spirit. #Spirit embodies the aether / the quintessence. It is the ethereal space & what dwells within it; divine beings, spirits & the Fae, even the supra natural. Humans attempt to access the Spirit through various mediums & divinatory practices: through clairvoyance & psychic awareness, lucid dreaming & astral projection, tarot & scrying (to name a few). Some also believe it can be accessed through prayer or only after death, when our souls leave our body to join the great expanse. It is engrained in all cultures, in various ways throughout the world; through magic & science, myth & fable. Spirit moves the pious, inspires artists & dreamers, brings magic to our terrestrial realm.
For this anthology, we are looking for poetry that explores the ethereal realm through various mediums whether religious / spiritual, through clairvoyance / meditation, science, & the imagination. We want theology, mysticism & magick, alchemy, explore the ancient mysteries. We want work that goes beyond our sphere & into the void, translating the unknown. Send us your séances, your rituals, your communions with the gods, show us the creatures that lurk in the night (the ones we don't already know about), tell us of your travels through space & time. We want poetry that is evocative of the otherworldly. Be bold & dare to go beyond.
A GUIDE TO PROFFERING:
Please send no more than 8 pages of poetry in a word doc or pdf to [email protected] with SPIRIT in the subject line.

We highly recommend you read one of our previous anthologies prior to sending your work in order to get a clear idea of the range of poetry we're looking for.

We accept only original, previously unpublished work.

Simultaneous submissions are allowed, but please let us know right away if your work is accepted elsewhere. We will not accept "replacement" poems, unless we solicit you for them.

We are a press that enjoys a variety of voices & experiences, but we also maintain a standard of inclusiveness & want our authors & staff to feel safe. Please DO NOT send us work with any implications aimed at harming someone / something else – this includes work that contains racism, homophobia, transphobia, animal cruelty, womanizing/misogyny, ableism, xenophobia, or any other form of hateful speech or rhetoric toward another person / group of people. We are vehemently against it & will not consider any work that doesn't meet our standards of inclusivity & safety.

If your work is chosen for publication, White Stag Publishing reserves First American Rights. As payment for publication, you will receive one copy of the printed anthology & $5 per page of poetry upon publication.

Proffering will close December 26, 2022.
Via: White Stag Publishing.
About the Author
Latest Posts
Stuart Conover is a father, husband, published author, blogger, geek, entrepreneur, horror fanatic, and runs a few websites including Horror Tree!