Taking Submissions: SNAFU: PUNK'D (Early Listing)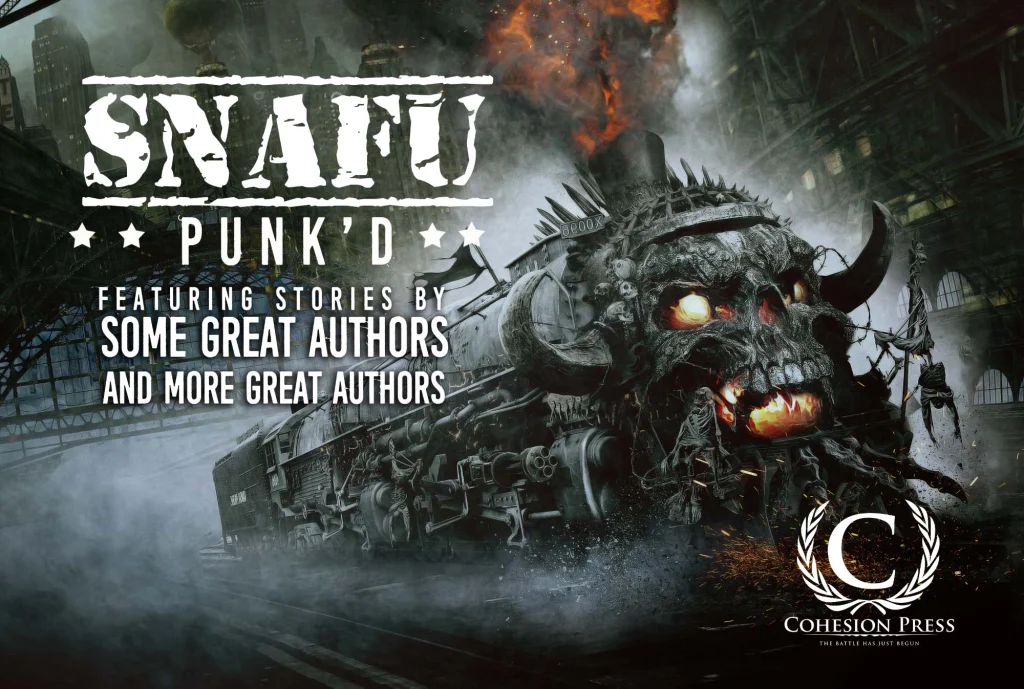 Submission Window: January 1st, 2023 – March 31st, 2023
Payment: AUD5c/word and one contributor copy
Theme: Action horror/specfic 'punk' genre.
AU5c/word / 2k-7.5k words
 Opens Jan 1st 2023/Closes March 31st 2023 (in your time zone).
Fantasy, Horror, or Science Fiction, but all must have a military/action focus
Theme – action horror/specfic 'punk' genre.
WHAT WE WANT
ACTION-BASED horror/specfic within conflict in a past, present, or future filled with the aspects that make your story a 'punk' subgenre tale.
The 'punk' genres we are referring to are listed at these two URLs:

https://en.wikipedia.org/wiki/Cyberpunk_derivatives
https://litreactor.com/columns/punkpunk-a-compendium-of-literary-punk-genres
Think Bladerunner for cyberpunk, Naked Lunch for biopunk, the Crysis videogames for nanopunk, The League of Extraordinary Gentleman for steampunk and so on… anything that can be considered a high-action monster story set within an obviously 'punk' theme. If you choose an obscure sub-punk style, please make it obvious for us which one it is in.
For level of unnatural creature we will give priority to, think Frankenstein's Army, Van Helsing, Dog Soldiers or Aliens. We want lots of monster goodness and lots of action.
Please ensure the action is central to the story, from start to finish, and don't forget monsters!
This volume is like the previous volumes squared. Even more all action.
We want extreme action (yes, I said it again) and it really should be in the style of military or paramilitary action.
RANDOM THING – please begin your cover email with 'Hello Geoff (I read the guidelines)'. This is for two reasons. One, I hate being called Mr Brown. Two, I wanted to make sure you are reading these guidelines. No proper greeting, we won't read your work. We will delete and not respond to your email.
And to say it again, full action. Nothing less. Hoo-rah!
We actively encourage submissions from all cultural backgrounds, ethnicities, and identities. Storytelling is for everyone, and we are richer for it when all voices are heard.
SOME GUIDANCE –
IF YOU TAKE THIS PLOT PATH, IT BETTER BE DAMNED GOOD:
Bladerunner-style synthetics as the antagonist. These are the most common of things any of the punk styles, and just like Highlander, there can be only one!
What we DO NOT WANT AT ALL, IN ANY FORM:
Rape as a plot device/backstory
Racism, bigotry, misogyny of any kind in the narrative voice
Child abuse/paedophilia (can't believe we have to say this, but we do)
Rape as a plot device/backstory (yes, we have to say this twice)
Fanfiction or derivatives
Edited by Amanda J Spedding and Geoff Brown
Payment: AUD5c/word and one contributor copy in each format released.
Wordcount range: 2,000 – 7,500 words (query for shorter or longer)
Submissions open January 1st 2023.
Closing date is March 31st 2023.
Anything submitted either side of this period will be deleted without being read or replied to.
No selections will be made until after the period closes.
Projected publication date: Q4 2023
Please follow these guidelines when submitting to us:
Please put your full contact details and word count top left of the first page of the manuscript.
Standard submission format, with minimal document formatting.
Courier, Palatino Linotype, or Times New Roman set at 12pt.
Italics as they will appear.
No underlining.
Double spaced.
Please don't use TAB or space bar to indent lines.
DO NOT indent at all, even for first lines.
NO SPACE between paragraphs unless a line-break is required. ONE SPACE after full stops.
Please put full contact details on the first page of the manuscript (yes, I said this twice… it's important).
Send your submission to Geoff Brown at [email protected] as an attachment (.doc/.rtf only)
In the subject line of your email, please put Punk'd: [STORY TITLE] (Replace [STORY TITLE] with your actual story title. Yes, unfortunately I do need to say this)
Example – Punk'd: Varmint Control
NO MULTIPLE SUBMISSIONS
NO SIMULTANEOUS SUBMISSIONS
NO REPRINTS
Please include a brief 'hello, this is who I am' in your email body as a cover letter. It doesn't have to be long, and if you're unpublished as of yet, don't feel you will be treated differently without a list of prior publications.
Blank emails with attachments will be deleted.
FORMATTING GUIDELINES MAIN POINTS (AGAIN):
We ask for no indentation for paragraph beginnings. Do not indent. This is for ease of placement in the desktop publishing program we use.
Secondly, please only put one space after a full stop.
Also, italics MUST appear as they will be used – no underlining – and again, only one space after a full stop.
Anyone that fails to follow these guidelines will likely see their story fed to an alternative dark and dystopian reality.
No-one wants that. Trust me.
Via: Cohesion Press.
About the Author
Latest Posts
Stuart Conover is a father, husband, published author, blogger, geek, entrepreneur, horror fanatic, and runs a few websites including Horror Tree!