Taking Submissions: Spectral Book of Horror Stories Volume 4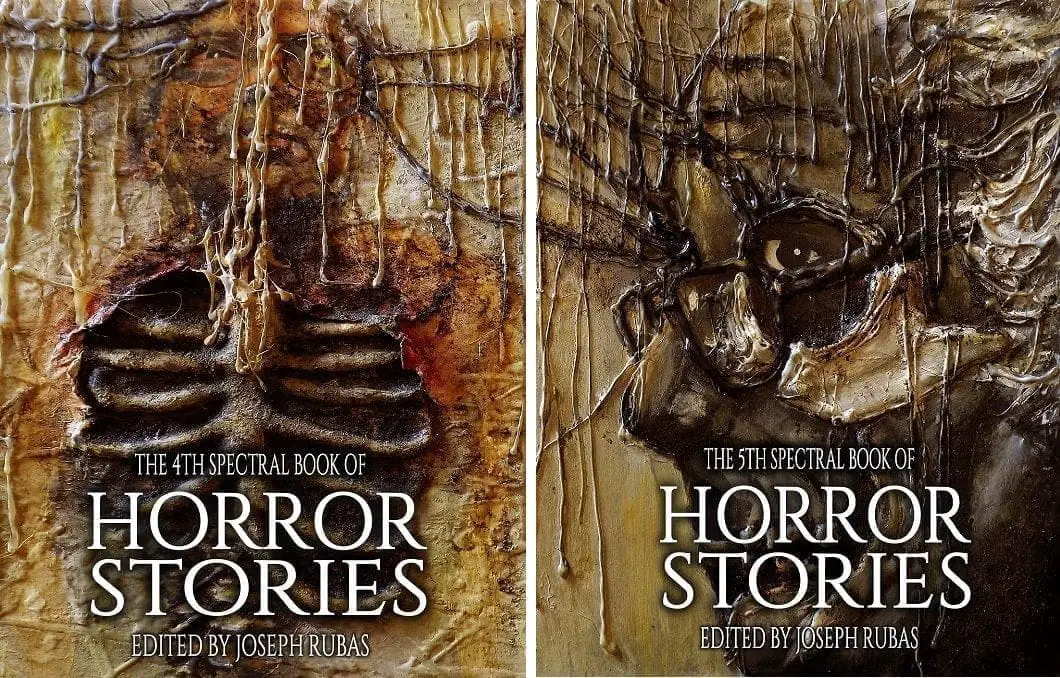 Deadline: January 25th, 2017
Payment: One pence (about one cent) a word and a contributor's copy
Note: This closed early because apparently the deadline was an unlisted open until full and not a real deadline.
We had a fantastic submissions call for the Spectral Book of Horror Stories 3, which is published on Halloween 2016; so acquiring editor, Dave de Burgh has decided to make it a twice yearly event.
Book 4 will be launched at Eastercon 2017 and book 5 on Halloween 2017.
So get your thinking caps on as submissions are now open for both. This is a paid for anthology so email us for details. Please make your stories better than good for this prestigeous collection.
The two covers are by Holly Madew who now has a hatrick in books 3-5.
Submissions to [email protected]
Submission Guidelines:
Simply put, contemporary horror. It can be supernatural horror, body horror, psychological horror, or even dark science fiction, provided it takes place on earth. We tend more toward atmosphere than gore. It should be known up front that while the editor believes horror should shake the reader, stories containing abuse toward animals and children are less likely to be accepted. Violence, swearing, and sexual content are all allowed so long as they serve the plot.
All stories should have a modern setting. You don't need to load your work with references to Facebook and iPhones (actually, we'd rather if you didn't), but we'd like stories to reflect today's world.
Stories should be sent to [email protected] as RTF or Docx attachments. Work should be between 1,000 and 5,000 words. If your story is slightly over or under, query. Your submission should be double spaced in Times New Roman 12pt. Please include your name, address, email address, and phone number in the upper left corner, and a rough word count in the upper right. You may include your last name, story title, and page number in the upper right corner of each page after the first, but this is neither required nor recommended.
Please include a cover letter in the body of the email.
Pay is one pence (about one cent) a word for non-exclusive rights, and a contributor's copy.
The deadline for volume four is January 25.
The deadline for volume five is August 1.
***
Launched in 2014, The Spectral Book of Horror Stories is a twice yearly anthology series dedicated to publishing phenomenal short fiction. Submissions are currently open for volumes four and five, edited by Joseph Rubas. Prior volumes have included work by Ramsey Campbell, William F. Nolan, Billie Sue Mosiman, and David Wellington.
Via: Tickety Boo Press.
About the Author
Latest Posts
Stuart Conover is a father, husband, published author, blogger, geek, entrepreneur, horror fanatic, and runs a few websites including Horror Tree!